Giv-markets.com flaunts itself as an experienced broker who provides top notch trading experience for forex traders. Contrarily, this broker is a well-disguised scam. Ensure you read this GIV Capital broker review to know what experts think.
In our bid to keep forex traders from scam brokers, we have made it our duty to review forex broker websites. That way, we can help you tell which one is legit and which one's not. This review tells you all you need to know about GIV Capital broker.
About GIV Capital Broker
GIV Capital is a financial institution that claims to have been founded 10 years ago in the UK, according to giv-capital.com. However, according to their terms and conditions, this broker is registered and regulated by the FSA in St. Vincent and the Grenadines. This right here is a quite a funny piece of conflicting info.
Furthermore, GIV Capital trades forex, precious metals, index and energy futures and US stocks. However, when we glance through giv-capital.com, we find more than enough reason to doubt their credibility.
Giv-capital.com: Red Flags Found!!!
Here are some red flags we found on giv-capital.com. You just might want to avoid this broker.
GIV Capital Withdrawal and Deposit
The minimum deposit amount for GIV Capital is $1000; an extremely outrageous amount, precisely 10 times the $100 industry average. The payment methods available are debit/credit cards, bank wire method and cheques.
Thing even get more suspicious when we read in the terms and conditions that there are no specific withdrawal fees. It states that these fees will be determined as they alone see fit. This simply means they can charge you whatever they want, whenever they want. No legit broker would ever give you a clause like this.
Therefore, there are no account dormancy fees, withdrawal fees, or even minimum withdrawal specified. This is a red flag that's hard to overlook.
Giv-capital.com Trading Platform
On their main page, GIV Capital broker claims to offer the Metatrader 4 trading platform. However, when we attempt to access it, we're redirected to a Metatrader 5 terminal. This is not so bad, and we usually would not complain, but honesty is also a sign of a legit forex broker. That's what concerns us here.
The maximum leverage offered by giv-capital.com is 1:400. This is quite an unusual number, considering GIV Capital claims to be located in the United Kingdom. Brokers in the UK have since been charged by the FCA not to offer leverages above 1:30. This is to reduce the amount of trading risk a trader would have to take.
GIV Capital Licensing and Regulation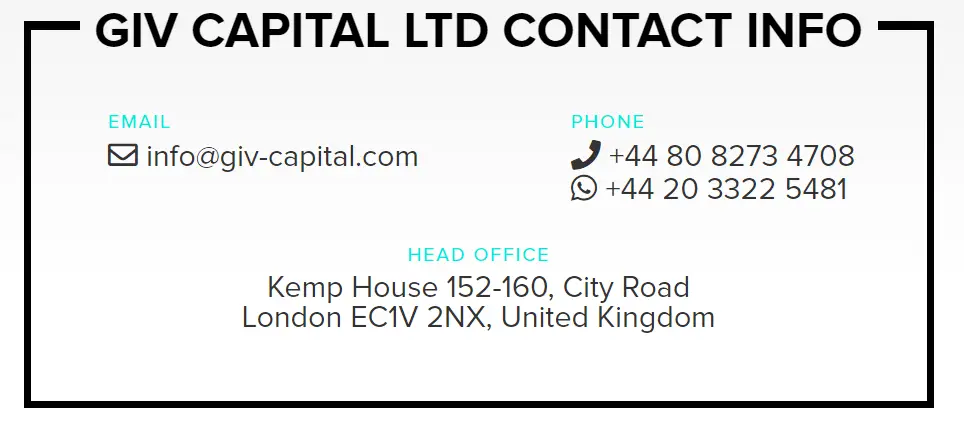 GIV Capital brokers claim to be located in the United Kingdom, which would mean they should be regulated by the FCA. However, under their Terms and Conditions, they claim to be registered by the FSA in St. Vincent and the Grenadines. The thing about SVG is that it is an offshore broker location. The SVGFSA doesn't license forex brokers, hence, the place is buzzing with shady brokers.
After checking with the FCA and not finding GIV Capital, we have come to the conclusion that GIV Capital broker is an UNREGULATED broker. Unregulated brokers are illegal as they do not have licenses to operate.
Conclusion: Is Giv-capital.com a Legit Broker?
No! GIV Capital is an unregulated broker; they operate outside of forex laws and are termed offshore brokers. Any funds you deposit with an offshore broker is at maximum risk, hence advise against trading with this broker. We recommend that you deal with a transparent broker, licensed by a reputable agency.
If however, you wish to add something else about this broker, feel free to use the comments section.
Our Recommendation For You
You can make money online by trading with reputable, reliable and trustworthy brokers. We've been trading with the Fortrade broker below for sometime now and we have no regrets!
[supsystic-price-table id=10]
FORTRADE- One of the Top rated brokers and a good choice for new traders. This broker is Licensed in UK(FCA), Australia(ASIC) and Belarus(NBRB). Guess what? you can trade from any part of the world as it accepts Traders Worldwide. Interested in trading with one of the best Forex brokers? Head Over to Fortrade and start trading!