Lose weight without stress? Are you considering downloading Fitcoach App? Are you wondering if it really works? You are on the right place. Go through this Honest Review to find out if it is genuine or a sham.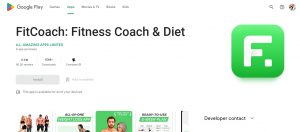 FitCoach: What Is It?
FitCoach is an App that claims to help you stay fit. It provides a personalized workout plan for people who care about their health conditions, desire to lose weight and get fit but do not have enough time for the gym. It enables you to lose weight without stress.
Who Is The Fitcoach Fitness App For?
FitCoach is a fitness app for those who want to start a new active lifestyle, build healthy habits, lose weight, get fit, tone up, and feel amazing. With our 30-day fitness plans, you can easily change your lifestyle, adjust your diet, and get effective advice on caring for your body. Beginner workout is also available. Accept fitness challenge, eat healthy get fit and lose weight with our fitness app!
Does Fitcoach Really Helps You To Stay Fit?
Sadly not. There are tons of negative reviews online about the App. Majority of users complained that the app charges them randomly without user's authorization. It was rated 2.6 on Trustpilot.
See what some customers have to say-
Scam. Charged my account after paying for 30 day program. Shameful. Workout program was good but you lost me as customer with dishonesty.

Mark Cooper
This is a total scam. Pretty average app, but all packages automatically renew with no warning and not well signalled when you purchase.

Jane Danowski
Conclusion:
From all indications, fitcoach is not a legitimate fitness App. However, some users complained that the App charges them randomly without user's authorization. As a result of this, potential customers shouldn't have high expectations.
Have you heard of Saanvi face cream, we reviewed it earlier.