Have you heard of Earnisland located at Earnisland.co Earning App? A survey network that gives users the opportunity to make money online through many different ways. With Earnisland, users are given an influx of opportunity to make large sums of money.
Are these claims true? Can you make huge some of money when you sign up to this website? Keep reading. This article exposes everything you need to know about Earnisland.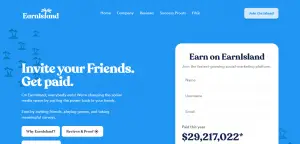 Earnisland 2022 – What Is It All About?
It is a survey network that gives users the opportunity to make money online through performing variety of activities. With Earnisland, users are given so handful of opportunities to make large sums of money.
How it works- The first way you can make money on this website is by filling out quick and easy surveys, these surveys only take up to 5 minutes to complete and can pay you a good sum. The next stage in the money making process is referrals. With Earnisland, each user is assigned a special referral link which can be used to invite others onto the platform. With each successful person you invite, you are paid. Another way you can make good money on this website is by downloading the new apps and games they have available. The final way to garner some dividends on this site is by making online posts about them to different social media outlets. You can post online to Facebook, Instagram, snapchat, and more
Ways To Earn Money On Earnisland:
By signing up 
Fill out surveys  
When someone signs up under your link 
Each time a person clicks on your referral link 
Share content about the website on various social media platforms 
Interestingly, you can do all these and earn huge money from the comfort of your home.
Does Earnisland Really Gives You Opportunity To Make Money Online?
It seems so. A lot of users have given positive reviews online about this website. However, handful of users have complained that when they invite someone one the app, it does not show up. It was rated 4.4 on Trustpilot.
See what some users have to say-
I love to spend my free time on here! Easy to talk and invite new friends

RaviSaithi
Why when I invite someone it doesn't show the invite number? Please help

Shanel Burguess
---
Benefits:
Get paid to do quick and easy online work 
Users are paid to fill out 5 minute surveys 
Downloading apps and games is another way users can get compensated for 
If you post about this website online, you will be paid 
Some Inconsistencies:
There are no much information about their operation
No Contact Us info provided on the website.
Conclusion:
From the ongoing, Earnisland seems like a legitimate platform but just like USDtuut and USDtmarks users may not get all mentioned benefits on the website. Therefore, be cautious when signing up with them. They have no information about their operation and no Contact Us information.
Also, you can report scams, untrustworthy websites and tell us why you consider the websites fraudulent. See similar phishing scam; SharpUSPS scam text, Wal Tracking Scam, Delware BPO Scam, Publix 90TH Anniversary, etc.