Bitlue claims it is a crypto currency exchange platform. It is advertising on Discord of crypto "pump and dump" schemes under the Discord group name "Pump Manipulator".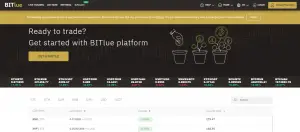 According to the information on the website, it is a digital asset trading platform that offers –
real-time orderbooks
charting and technical analytics tools
trading history
However, there's something fishy about this platform. From mails sent to us, the platform works this way –
advertise pump and dump on Discord
 No live trading so cannot see what the market is doing.
Tricks you into thinking you've made money but cannot actually withdraw
Bans you from the Discord group when you start complaining
Have you traded with bitlue.com? Please share your experience in the comment section. Meanwhile see similar crypto exchange scam here.