Did you receive a text from Bank of America telling you your Bank of America EDD Debit Card has been suspended? Were you directed to a link to activate the prepaid card? Beware! It is a scam.
Currently, thousands of people have complained of receiving this suspicious looking email. It looks this way –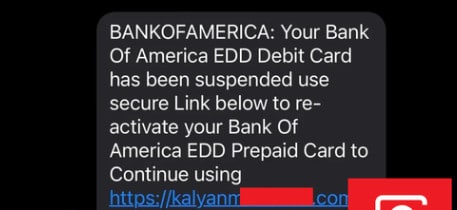 It could also come in the following formats, either via text message or email –
Bank Of America Alerts: Your debit access has been restricted due to transfers attempts. see here: <URL>
B.0.A: We locked your debit due to irregular activity. Please visit <URL> to unlock
Do not panic! It is not from a reliable source.
Bank of America Scam Text – How Does This Scam Works?
The text message is sent by scammers who intend to get your personal and financial details. It contains a link for reactivation of the prepaid or debit card. However, the link attached is not that of Bank of America.
Once you click on it, it'll take you to a malicious website. This website will ask for your bank details. If you provide the details, large sum of money will be collected from your account.
Bank of America has released a statement warning the public of scammers who scam victims by sending fraud email or text messages. Sometimes, these scammers also spoof Bank of America website and email address, making it look real to victims. Don't be deceived! Bank of America will never ask you to provide your Social Security number, ATM or debit card PIN or any other sensitive information via phone call, email or text message.
How To Avoid Being Scammed.
Reject, refuse or ignore contact from "Bank of America" that looks or sounds unusual, such as a request for your bank or personal details. We never ask for this information
Check email addresses, and confirm online.
Check branding. Their logo will always be present in their communications. It should never look stretched, blurry or distorted
Only criminals will try to rush or panic you
Received Text or Email That Looks Suspicious? Do The Following!
You should delete the email immediately as it is obviously a phishing scam. Meanwhile, do not forget to inform your family and friends. Please they should not click on the link if and when they receive such message.
Also, you can report scams, untrustworthy websites and tell us why you consider the websites fraudulent. See similar phishing scam; Wal Tracking Scam, Delware BPO Scam, Publix 90TH Anniversary, etc.