Bandoo Detox Patches is a foot patch that allegedly cleanses your body from harmful toxins. Does this cleansing foot pad really work or is it a ripoff scam? Are the Bandoo Detox reviews online fake or real? This review provides answer to your questions.
With online scams springing up every day, we have taken the responsibility of reviewing products, stores, websites e.t.c in order to save you from making wrong decisions.
How To Use Bandoo Detox Patches
From what we gathered on the website where this product is being marketed, the following ways are how to use this patch-
Place the patch at the middle of the foot. The soft side of the patch should contact the skin.
Apply the second patch on the other foot OR another part of the body you wish to remove the toxins from.
Leave the patches on for 6-8 hours. It is recommended to apply the patches before sleep.
Peel the patches off after 6-8 hours of use and wash your feet.
What an easy way to remove unhealthy toxins. Sounds pretty cool right? However, there seem to be some inconsistencies about this product.
Should You Be Concerned About Bandoo Foot Patches?
The answer to that question is Yes. Though trybandoo.com appear to be a legitimate online store, below are reasons why Bandoo Detox Patches might not work for you –
Not an Extraordinary Product
Bandoo is just the rebranded name of 'Nuubu' a popular detox foot patches that was common in 2021. It is still the same company, the same packaging, and the same website design of nuubu.com.
Like Nuubu, Bandoo detox patches do not get rid of any toxin as you were made to believe. You must have seen the glowing reviews online that claims Bandoo was made with an all natural Japanese solution. What these reviews fail to tell you is that the product contains ingredients that will react to moisture and body heat and it changes the color from whatever it is to black once in touch with heat and humidity.
How did I find out? I placed the patch above my kettle and it immediately turn to black. So yeah, the patch is not cleansing toxins from your body like you were made to believe.
It rather turns black because it reacts to moisture and body heat. Proof? just put one above a source of steams such as a kettle and see for yourself.
Delivery and Shipping Takes Months
To begin with, it took them AGES to send the package. After a couple of months from the date of purchase, I contacted Bandoo to ask about the shipment and was given all sorts of excuses why it was not shipped yet. This was not what I expected. On the officially website it was clearly stated that the estimated shipping time for United States is 12 -15 days.
No where was it written that I've to wait for six bloody weeks. Six goddamn weeks!
Terrible Customer Service
Bandoo customer service sucks. Yes, you heard me well. When you send them a mail, You receive an automated mail saying they're very busy but your query will be dealt with within five working days. This is not true. The only time they sent a feedback was to invite me to review their product /service. This mail was immediately followed by a mail thanking me for my order and saying that shipping would happen soon.
Payment Discrepancies
Lest I forget, when you place an order for the patch, trybandoo.com tries to charge you for more than one patch. If you're not observant, you might end up paying for four Bandoo detox patches instead of just one like this person below –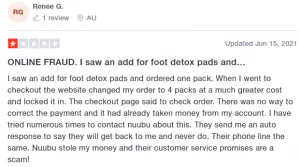 Fake Reviews
Don't be deceived by the positive reviews online of Bandoo foot pad, they are all sponsored posts. The owner(s) of Bandoo Detox patch has invested lots of money on advertising and SEO. That's why you'd only see good reviews online. .
Does Bandoo Patches Really Work?
MayoClinic has addressed this issue on this article here. The truth is that there's no reliable evidence that detox foot pads work.
Like weight loss patches, No scientific studies have been published that show that detox foot pads work or that they're safe. The Federal Trade Commission has even charged some distributors of detox foot pads with deceptive advertising.
The bottom line: As with anything that sounds too good to be true, your best bet is to wait for scientific evidence that proves a claim before investing your time and money.
Have you bought and used Bandoo Detox patch? Did it work? Please drop your reviews on the comment section.
Disclaimer: The views expressed in this article are presented as an opinion based on available information. This review is intended for information only and should not be relied on when making financial or business decisions. There is no malicious intent or attempt to defame any individual/s or organization/s. If you are a website owner and would like to provide clarifications regarding your business and/or website, please get in touch using the Contact Form.