Have you received AVG Subscription Scam Email? Saying that a payment for AVG Home Ultimate Protection has been processed successfully? Beware! Don't fall victim. Keep reading, this article exposes details about this scam email.
Recently, Lots of people have received this AVG Subscription Scam Email. The fake email, which is spoofing an Intuit email address, is being sent by scammers attempting to trick their potential victims into making a fraudulent payment.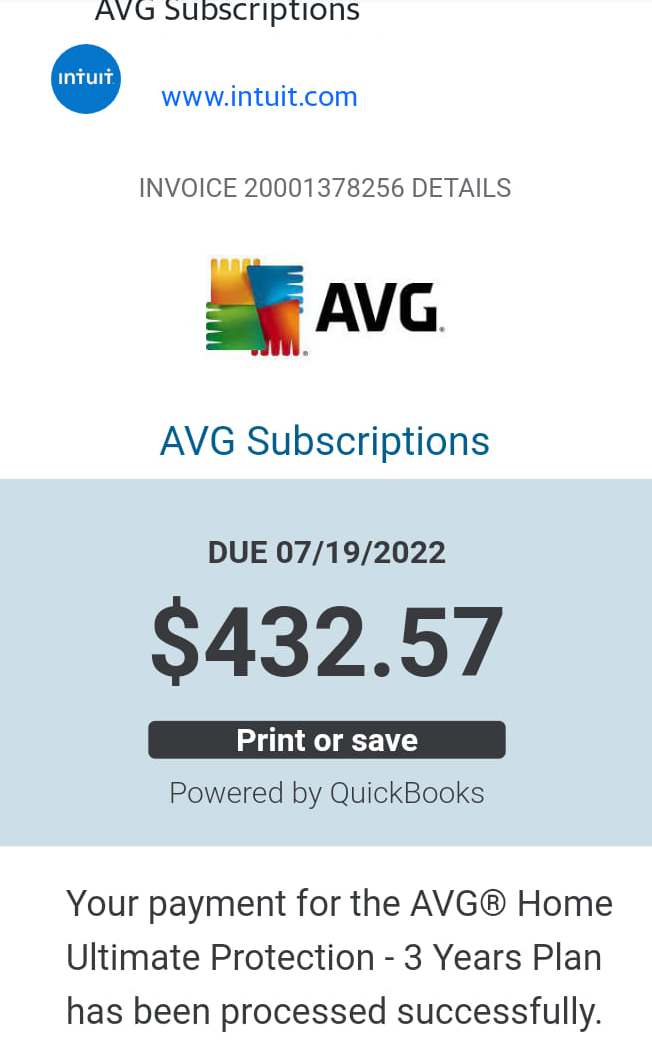 AVG Subscription Scam Email 2022 – How Does This Scam work?
It is a fraudulent text or call from scammers to get your personal and financial information with the ulterior motive to defraud you. The text says – a payment for AVG Home Ultimate Protection has been processed successfully. This text is supposedly from Intuit.com, but it has nothing to do with intuit. The alleged agent is not an authorized agent of intuit. Do not be deceived. It is all Scam!
Intuit has released warning for Quickbook users to be aware of this prevalent scam.
Genuine companies will never ask for sensitive information such as a password or credit card number.
What Should You Do If Or When You Receive AVG Subscription Scam Email Message?
You should delete the text message immediately as it is obviously a phishing scam. Meanwhile, do not forget to inform your family and friends. Those who have already been tricked into sending or disclosing their financial information by the scam, should contact their banks for help. They should also inform their banks that they have unknowingly or were tricked into sending their credit card information to online scammers.
Also, you can report scams, untrustworthy websites and tell us why you consider the websites fraudulent. See similar phishing scam; Wal Tracking Scam, Delware BPO Scam, Publix 90TH Anniversary, etc.