Have you received a phone call or text message from ASG Recovers or ASG recoveries about a debt? Don't Panic! Thousands of people have reported this annoying text messages, phone calls and voice text messages from Asgrecovers.com. Read this review to find out what you should do!
ASG Recovers : What Is It?
ASG Recoveries aka ASG Recovers located at asgrecovers.com is a debt collector company that allegedly helps American companies resolve debts. They claim to collect debt for the following companies – Fox Enterprises,  HSBC prime, etc. Sadly, lots of people have complained of being wrongly accused of owing debts.
They receive messages, phone calls, and voice mails which are often threatening.
The message goes like this-
Hey this is Tammy with account services pre-legal at your account has been placed in my department and we need to get a statement on your behalf here if there are no intentions of a resolution if you do prefer a more amicable resolution _⁠_ please call us or go online to our website and get this resolved right away um our website address is asgrecoveries.com that is a as an account as in services G is in group recoverread.com or you can call us back at this number and we can get you a link straight to the website to take care of it it is super important to get this resolved at this account has been outstanding for far too long really him by law I am required to inform you this is an attempt to collect a debt thank you very much…"
Is ASG Recovers the same with ASG Solutions LLC?
The answer to the question is NO. ASG Solutions LLC has absolutely nothing to do with ASG Recovers aka ASG Recoveries. They've even released a memo on their Contact page, clearly stating they are not ASG Recovers. See the image below –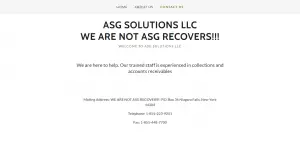 Is ASG Recovers a Scam Debt Collector?
We cannot clearly say if ASG Recovers is scam or legitimate. However, reviews and complaints online point to the fact the company appears shady. One of the major redflags of ASG Recovers is the fake claim that they've been in business since 25 years. This is entirely false!
According to who.is (a domain checker tool) the website 'asgrecovers.com' was registered on October 2021.Why'd the company lie about this important information? Secondly, from the complaints online, the debts are not real. In fact, majority of the alleged debtors swear they've no such debt. See the complaints below –
 I have talk to them they don't want to tell me anything they say I owe 2,235.00 to a HSBC prime that I never heard of and I don't know nothing about this account they say they have all my info I tried to get their info but they hang up on me I have their phone number is 1-205-627-7004 this need to stop harassing me about a debt of 2,235.00 that I don't know nothing about

Raul Morales
You can see more of this complaints here on ScamPulse
Received a Call or Voicemail From ASG Recovery? Do This
If you've received a call, text message or voice mail from Tammy of ASG Recovers aka ASG Recoveries LLC, you should do the following –
 Contact ASG Recovers with the phone number (205) 627-7004
Request a Debt Validation Letter to know the original loan and from which company.
Find out if the amount of the loan corresponds with what you owe (if you really owe the company)
Contact the original loan provider if you know you owe the amount, then negotiate a payment plan.
If you've never heard about the supposed company you're owing, clearly let ASG Recovers know you don't owe such debt.
Submit a complaint with the Federal Trade Commission  or you can contact your state Attorney General's office .
How to Spot a Scam Debt Collector This 2022
Below are how to know the difference between a legit debt collector and a fake one-
They withhold information from you
Pressures you to pay by money transfer or card
Threatens you with jail time
You don't recognize the debt they claim you owe
Calls you at inconvenient times
Conclusion
From all indications, ASG Recovers is not a genuine debt collector. Lots of people have complained of being threatened over non existent debts through calls and voicemails. The aliases use during calls are Tammy and Mike.
No matter how convincing they may sound, we advise you not to send money or personal information to them until you've verified the debt and seen it is real.
You can send us a mail if you're in doubt of similar mails in the future!
Phishing scams are on the increase daily, and we've been able to fish similar phishing scams like – EireVerify, Svieducation scam, Vince Camuto email scam, NYSDOL scam, USPS scam, to mention but few.
ALWAYS REMEMBER TO SEND US A MAIL VIA OUR CONTACT US PAGE IF YOU'RE IN DOUBT OF TEXT MESSAGES, MAILS, OR ONLINE STORES!