Do you want to buy Aquacare antimicrobial shower head from buyaquacare.com? Are you looking for Aquacare reviews? Read this review to find out everything you need to know about this anti-clog shower head.
Our Review serves as an eyeopener. We hope it meets you well, and on time.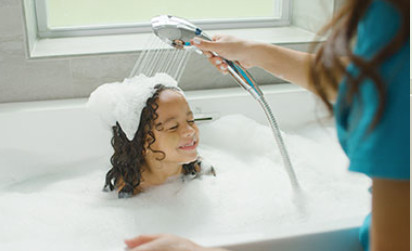 AquaCare Shower Head: What is It?
AquaCare is an as-seen-on-tv high pressure 8-mode handheld shower head that shields users from germs. It has an anti-clog nozzle, advanced 5 -zone design ( for showering, cleaning & pet care), and built in power wash. The product is available on Amazon, and on the official website buyaquacare.com
What you get when you order;
Anti-Clog Nozzles: These keep the shower head performing flawlessly for years.
Advanced 5-Zone Design: Perfect for showering, cleaning, and taking care of pets.
Built-In Power Wash: Makes cleaning your tub and tile effortless.
2 Free Bonuses: Enjoy a deluxe extra-long 6′ hose and an additional wall bracket.
All-Chrome Convenience Package
Testing The HotelSpa 2639 Aquacare Showerhead
I went for the 2.5-gallon version, and I'm glad I did. I was worried it might be a hassle to install, but it was a breeze. Literally took me less than 5 minutes. No extra tools needed unless your current shower head is a bit stubborn. The "power washing" feature is the highlight – turns the shower head into a mini power washer. It's like having a strong stream of water for cleaning. Overall, installation was simple, and it's doing a great job.
Before you order online, just a heads up, they don't let you review your purchase, and you might get an email with changes you didn't make. If you need customer service, good luck, it's just voicemail.
Does The Aquacare Showerhead Work?
Yes it works. However, if your shower head is one of those round ones that doesn't seem to unscrew, then you may find it difficult to install.
Who Is AquaCare Showerhead Best Suited For?
The Buyaquacare showerhead is best used by parents with small children or pets, individuals with mobility issues seeking an adaptable showering solution and people who are short.
Is buyaquacare.com a Scam? Here's What You Need to Know
Delivery Delays and Customer Service Problems
Lots of customers, including me, experienced delays in getting their orders. Trying to contact customer service through email didn't work, and the provided phone number seemed unreachable.
Issues with Account Setup
Some customers had trouble creating accounts and registering the product on the company's website. The website not working and unhelpful responses from customer service added to the frustration.
Problems with Product Registration and Returns
For those who did get their products, registering them for warranty or trying to return them turned out to be a hassle.
How To Install
To install the showerhead, follow the instructions written on the manual:
Attach Aqua Care showerhead to your existing wall bracket or use the provided larger wall bracket if needed. Twist it securely onto the bracket.
Turn on your shower as usual and use the dial on top of the showerhead to choose from eight settings.
For hand-held use, turn the showerhead over to access two additional settings.
After showering, turn off the shower in the usual way. If used hand-held, leave it in the bracket to prevent tripping or soap scum.
What I Like about Aqua Care Shower Head
 Super easy to install took maybe 10 min to install and that included taking my old one down.
We love that it has a super long hose, and also the second holder that can be used to bring it down lower.
The water pressure is fantastic.
Switching spray modes is extremely easy to click into place
The jets on top makes it super easy to clean up the shower.
What I Don't Like
 It is a little hard to get the lever to move on top to get the jet stream on.
The connector is plastic, which we needed to tighten down to stop the leaks,
With high pressure the standard spray setting feels like stinging because holes are so small.
Buy Aquacare Shower Head – Is It Good?
AquaCare has a 4.6 star ratings on Amazon, showing that majority of customers are satisfied with the product. According to users, this shower head by buyaquacare.com is a great inexpensive product.
However, just like we mentioned above, a handful of customers have a problem with the shower's leakiness. See what a customer has to say –
I connected the shower head holder to the water pipe extension and the holder leaked. I checked and reattached the holder 2 more times, including re-reading instructions and it still leaked. The 4th and 5th times I connected it using more Teflon tape. It still leaked. I also used double duct tape on the inside of my plyers as not to damage/scratch anything. However, the chrome paint still pealed off the plastic holder making the connector look like crap. 

Miss Barbara
Conclusion
AquaCare shower head by buyaquacare.com is a great anti-clog shower head that serves as a luxury hand held shower. It has a 4.5 star ratings from users, showing that it is a good shower head. Meanwhile, there are various reviews from customers online just like NanoSparkle.
Have you bought Aquacare? What are your experiences so far? Please share on the comment section!
Prefer to do so anonymously? All you need to do is go here >>>> Fill The Form