Did you receive a text message from An Post saying your package has an unpaid €1.90 fee? Did it contain a link to anpost-pay-customs.co? Beware! It is a scam.
Lots of people have received this text message from AN Post. It actually contains a link to a malicious website and a fake tracking code.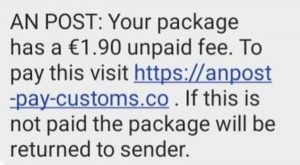 An Post Scam Text 2022- How Does This Scam work?
It is a fraudulent message sent by scammers who intend to get your personal and financial information. This dubious text claims you have to pay a custom fee of 1.90 Euro or your package would be send back to the sender. However, the website it directs you to is a fake AN Post website.
Clicking on the link exposes you to viruses, spywares, malwares, which are harmful to devices and can hack and destroy your mobile phone.
You could also be tricked to submit your credit card details all in the name of paying the unpaid fee. Beware! Gardai are warning about a 'customs fee' scam doing the rounds. They've shared the following tips –
"Do not respond to unsolicited text messages and do not click on any links contained in them.
"Do not provide any personal/financial details.
"Simply delete the message."
They added: "If you have fallen victim to this scam, alert your financial institution without delay and report the matter to Gardaí.
Received An Post Scam Text? Do The Following!
You should delete the text message immediately as it is obviously a phishing scam. Meanwhile, do not forget to inform your family and friends. Please they should not click on the link if and when they receive such message.
Also, you can report scams, untrustworthy websites and tell us why you consider the websites fraudulent. See similar phishing scam; Wal Tracking Scam, Delware BPO Scam, Publix 90TH Anniversary, etc.