Zlem by Velovita is a dietary supplement that allegedly burns off body fat while you sleep. According to the claims on velovita.com, this magic product uses all-natural ingredients that boost immunity, detoxify your body and help you in losing weight while you sleep without any harmful side effects.
Sounds pretty cool right? However, the question is this ; Does Zlem Weight loss supplement really work or is it just another fad?
Our Review of this product serves as an eyeopener. We hope it meets you well, and on time.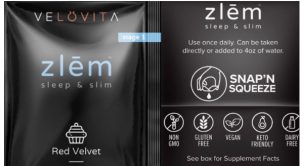 How To Use Zlem Weight Loss Supplement
From what we gathered on the official website which is velovita.com, a packet of Zlem contains 25 sachets which are to be taken one daily.
Each sachet contains 0.5 ounces or 15ml of the Zlem serum. There are two stages in which this dietary supplement works. The first stage ( the first 7 days when you notice your sleep schedule gets better), and the second stage ( the next 18 days when its slimming technology kicks in)
Sounds like an ideal product right? like literally killing two birds with one stone – lack of sleep and fat. However, there seem to be some inconsistencies about this product. Below, are issues we have with Zlem.
Unproven Results
The claim on the website are not verified. Below the web page is the Caveat written in very small prints 'The Statements have not been evaluated by the Food and Drug Administration. This product is not intended to diagnose, treat, cure or prevent any disease'
Interesting!
This doesn't help matters at all. The manufacturers of this weight loss supplement are simply saying the product hasn't been tested by the right organizations. So, you might likely see no results after taking this formula. And they can't be brought to the books because they warned the public! even though the warning was written in small prints.
Fake Customer Reviews
On the official website of this product, there are customer reviews that look real but are in fact fake. Google Image search shows that the images have been used for other Velovita products like the Bran, same word, same image. Doesn't this look fishy?
Remember; when it sounds too good to be true it's usually false advertisement.
Summary
This weight loss product claims it burns off fat by making you sleep. However, there are no proofs of its efficacy. The disclaimer on the product's website shows the product has not been evaluated and approved by the FDA. This makes it questionable. As a result of this, we don't recommend the product.
Do Weight Loss Supplements Work?
According to Healthline, dietary supplements or pills help you lose weight, or at least make it easier to lose weight. However, you have to combine it with other methods like exercising, portion control, calorie deficit.
However, one has to be careful as many of them are fad, and don't work at all. It is advised to go for pills that have proven results and reviews. That way, you can know what you are buying.
Have you used Zlem? What were your experiences? Did you lose any weight? Were you able to sleep better? Please share your experience in the comment section!