Balsam Hill Outlet located at zkipdyf.com is not a legit online store selling artificial Christmas tree. Read this review to find out why our scam detector gave dgjcgs.com a poor trust score.
According to FTC, online shopping and fake reviews is the second most reported fraud category in 2021. As a result of this, we have taken the responsibility of reviewing products, stores, websites etc. for our reader's financial safety.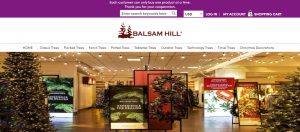 About zkipdyf.com:
Like we mentioned earlier, the online store known as Balsam Hill is not a legit place to buy Artificial Christmas Tree with warm micro lights. During our investigations we discovered the following drawbacks –
The price of items are too good to be true – When we reached out to the manufacturers of the products we were told the price falls below the cost price. So there's definitely no way a legit store or shop would be selling it for such ridiculous low price.
Domain Age & Expectancy – The website registration details shows the website was registered on the 16th October 2021. You can check here for the data.
No Contact Details Address – There's absolutely no means of contacting the store apart from the form on the Contact Us page. This is quite suspicious.
At this point you should be thinking of aborting mission! But if you're still keen on shopping from this store, continue reading!
Other Reasons why you shouldn't shop from zkipdyf.com:
Customer Complaints
Customer reviews online indicate that the store is a shady one. Buyers were unable to contact the customer support or get a tangible feedback about their order.
A customer has this to say –
Placed an order before I realized it was a scam. Unable to contact anyone other than via email. Payment went through my account with Bank of America, which provided a merchant phone number. Called the number and it was out of service. Had to cancel my debit card and get a new one expressed to me. Once the payment posts (just shows are processing right now), I have to contact my bank again to open a claim. Total nightmare. These losers need to go to jail!!!!!

Jonah
Clone Scam
The website make themselves look like they are in some way affiliated with Balsam Hill Christmas Trees when they're not. They've not provided a documentation to prove they're associated with Balsam Hill.
Shipping & Delivery
The website claims shipping and delivery takes 7 -15 business days, but that is pure bullshit. Customers have been unable to get any feedback about their order, not even a tracking code.
Return Policy
This store's refund and exchange policy is just a sham. There's absolutely no way to contact the store for refund.
Stolen Contents
zkipdyf.com failed our plagiarism test. The website copied its About Us, Terms of Service and Shipping Policy from another website. This is not how genuine websites work.
Is zkipdyf.com Legit?
From the crucial points noted above, this store has lots of red-flags. Just like Dgjcgs, this store uses super cheap discounts to attract customers. But when orders are placed, customers don't receive their order.
When they try to get a refund, the store delivers a fake USPS code to PayPal, claiming delivery has been made. Thus it is impossible to get a refund.
Conclusion:
From all indications, zkipdyf.com is not an authentic online store. It has a poor trust score, and as such not recommended by us. 
Just like other reported suspicious websites, customers wouldn't receive the item they ordered but a cheap item or nothing at all.
Have you been scammed?- Do This
Shopping from this store exposes customers to the risk of hacked credit card and overcharged fees. Also, customers would either receive an inferior item, a different cheaper item, or nothing at all.
Therefore, it is advised to file complaints to your bank and request for a new credit (debit) card. On the other hand, if you used Paypal as a method of payment, you should document (screenshot) the transactions for future purposes.
Yes, it is true that online shopping has made life easier, however when ordering things online check out the following-
How old is the website? Does it provide return address? Are there customer reviews online? Do the social media icons work?
Always remember you can get the items from trusted sellers on Amazon, like the ones provided above. One of the advantages of shopping from amazon is the return policy. If you are not happy with your order, you can always return your items and get your money back.