Do you want to buy Chinese Cryptocurrency from Yuan Pay Group? Are you wondering if it is legit or a full blown scam? Read this review to find out why our scam detectors gave the crypto trading platform a poor trust score.
According to FTC, crypto trading scam is the most reported fraud category in 2021. As a result of this, we have taken the responsibility of reviewing and exposing suspicious crypto trading platforms.
Yuan Pay Group: How does it work?
Yuan Pay Group is offering the public a lifetime opportunity to invest in the digital Yuan coin which they claim could get China state backing. Though this sounds convincing, there's more to what meets the eyes.
First of all, Yuan Pay Group is just a system that wants you to register and fund a real-money trading account with an unlicensed offshore CFD broker.
Forget the bogus words on the website. When you sign up, this is what happens –
You'd be bombarded with calls and text messages telling you to fund your account.
You'd be convinced to invest £250 to begin trading.
The crypto you buy is not digital yuan, its a decentralized rubbish cryptocurrency made by a bunch of scam engineers
When you allegedly make some profit and request for withdrawal, you would be totally ignored.
There are many websites claiming to be the official Yuan Pay Group website. In reality, these websites are set up by affiliate marketers. They get paid a commission for anyone who signs up and funds their account. That is why they've flooded the search engines (Google, Bing, Yahoo, etc.) with fake reviews and websites.
Reasons Why Yuan Pay Group is Clearly a Scam
If you're still considering giving the platform a shot, below are more reasons why you should avoid it like a plague;
Not Regulated
Yuan Pay Group is not regulated or licensed by any Financial body. Moreover, it has been blacklisted by the Financial Markets Authority (FMA) in New Zealand. In the warning the FMA is clearly stating that the promoters of the Yuan Pay Group scam are using fake celebrity endorsements and in that way misleading the public. It's also stated that the operators of this scheme are "not permitted to provide financial services or financial products" in New Zealand.  It's also been blacklisted by HANFA in Croatia for the same reasons. See the document below –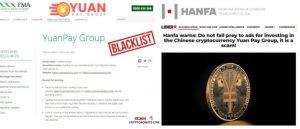 Anonymous Owner
Yuan Pay Group is allegedly owned by Li Fang which allegedly developed the E-Yuan. In reality, it is just a fictitious name with no face. There's no such person. The owner(s) of Yuan Pay Group are completely anonymous.
Fake Forbes Endorsement
Don't be deceived by the Forbes articles on the website, they are not real. The Forbes articles with images of Chinese billionaires and the words "digital Yuan", and "Chinese digital currency" next to them don't endorse the platform. While the articles may be authentic, the images and content is taken completely out of context and used in a very manipulative manner.
Fake Reviews
The first page of Google and Bing is plastered with fake Yuan Pay Group reviews. TrustPilot, Reddit, and other forums are also fully packed with fake reviews. What these reviews have in common is this – the bogus claim that the Chinese digital coin does algorithmic or robotic trading. It is totally false.
When we used the 'platform' we noticed the following drawbacks –
We were unable to adjust our settings or select various indicators such as MACD or Stochastics.  Unlike the claims seen in the reviews, the features don't exist.
There's no demo account. It costs us £250 to get started, and that money was charged to our credit card by thieving offshore brokers.
The platform does not use the original Chinese digital currency which is RMB. The currency which is being promoted by Yuan Pay Group doesn't exist so it can't be traded anywhere despite what these websites say.
There's no risk management. No way to manage your risk by adjusting the amounts you wish to invest. The broker simply accepts the trades and gobbles up the money.
When we started 'trading' we were unable to contact the customer service. Especially when we wanted to withdraw our earnings. We were unable to cash out!
Obviously, this is one terrible platform. Whether you invest or not, once you sign up, you become hounded by annoying calls and texts. From the reviews on TrustPilot, Yuan Pay Group is no doubt a scam. Lots of people attested to being scammed, as they were unable to withdraw their supposed earnings.
Conclusion:
From all indications, Yuan Pay Group is not an authentic site to buy digital Yuan. it has been blacklisted by Financial Markets Authority, and as such not recommended by us. 
The reviews, claims and articles on the site are bogus, and have been manipulated. Real user reviews indicated that Yuan Pay Group is a full blown scam operated by unregulated brokers. See warning here