Did you stumble on the job listing by wordsrated.com? Is it real or a scam? Is WordsRated paying $200 per book to readers for a living? Find out!
What is WordsRated?
 It is a non-commercial research organization that takes a data-based look at books, literature, and the publishing industry. Currently, they posted a job listing that promised $200 for every book read by hired candidates.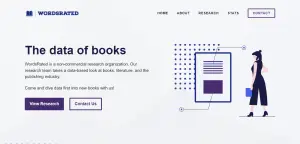 When we made an enquiry about the hiring process, we were replied by Danny McLoughlin, a research director for the company. He said the company is looking to hire the first people towards the end of May [or] start of June. Meanwhile, they intend starting with 5-10 people. You can see more details about the hiring process here
Real or Scam?
We investigated WordsRated by looking at its CEO Profile and their three research programs so far. From all we can see, it's a legit research organization. However, the current $200 per book job listing is for just a small number of 5 – 10 people. What this means is that candidates are going to have a tough time getting the job due to the large number of applicants. However, all hope is not lost, you could be the lucky candidate. So yes, WordsRated will pay you $200 for every book you read, if you get the job.