Wheel History located at wheelhistory.com is not a legit site to get your vehicle report. Were you referred to Wheel History by someone who wants to buy your car online? Read this review to find out why our scam detector gave wheelhistory.com a poor trust score.
With Online scams springing we've taken the decision of reviewing stores, services, products, etc. in order to help you make the right financial decision. We hope this review meets you well and order.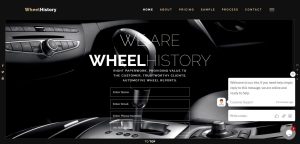 About wheelhistory.com
wheelhistory.com is a website were people living in Canada can check their vehicle history. Unfortunately, there's more to what meets the eyes. During our investigations, we discovered it's a money-making scam. Some of the red flags observed includes –
website domain registration was done in Pakistan
Fake social media icons that don't lead to any official page.
The website hasn't been operating for seven years as claimed in its About Us page. As you can see here, the website was registered on 28 February 2021.
Also, when you check the pages on the website you'll notice that there's no tangible information about the owner(s). This is something you shouldn't overlook. If you visit Carfax you'd see that the differences between the two sites is clear.
How Does This Scam Works?
a potential buyer of your car asks you to go to this site for your vehicle report
  when you tell the buyer you've a Carfax report, he'd insist you should get the vehicle report from WheelHistory.
When you visit wheelhistory.com you'll be required to pay $20 for the report.
After payment, you'll never receive anything.
Sounds like a petty scam right? I bet you think losing $20 is nothing to be worried about. But then, your credit card is at risk of being hacked. Especially if you paid directly on the site, or didn't use PayPal.
So what should you do?
Always have it at the back of your mind that the real source of title and registration information about a car is the National Motor Vehicles Title Information System (NMVTIS), which you can reach through the US government's vehiclehistory.com site.
Meanwhile, if your car is up for sale online, you should do the following :
Go to one of the genuine agencies and purchase a report yourself. (You might pay as little as $10 and up to $50 for a detailed report)
You can offer it as an incentive as part of your ad. (You're more likely to attract serious buyers that way — and no scammer is likely to ask you for an alternative report)
Meanwhile, if you're thinking about using a vehicle history reporting company you don't know, then check out their reputation online.
Just use their name and words like "complaint" or "scam" in a browser search to see if anyone else has encountered problems with them.
See other scam warning here