Westcome Review: westcome.net is not a legit store to buy leaf faux expandable fence. This review exposes reasons why you shouldn't shop from here.
With online scams springing up every day, we have taken the responsibility of reviewing products, stores, websites e.t.c in order to save you from making wrong decisions.
Our Review of this Ecommerce serves as an eyeopener. We hope it meets you well, and on time.
What is Westcome.net? Is It Legit?
Westcome is an online store that is selling items such as leaf faux expandable fence, garden hose, e.t.c However, there are a lot of inconsistencies about this online store.
Are you planning to shop from Westcome.net?
We advise you to take a breather, and go through this review. The Coronavirus outbreak has birthed a lot of online scams ranging from online stores, investments and what have you.
So, don't be in a hurry to buy from any online store without checking for reviews (Not just one, as you might be misinformed)
Is this store what it claims to be? Do you run the risk of not receiving your order? Is your credit card details at risk with this store? These and many more are questions we hope to answer with this review.
Westcome.net Specification
Westcome is located on- https://www.Westcome.net /
This store has provided the following contact information-
Email; [email protected]
should you have a reason to worry about Westcome.net ?
Searching For These Items? See Trusted Sellers
Why Westcome.net Is Risky- Redflags Discovered
During our in-depth investigation, we discovered the following cons of this Online Store.
Westcome.net Customer Complaints
Those who had shopped from Westcome.net were disappointed with their order as they didn't get what they ordered. The image below is that of a comment made by a frustrated buyer.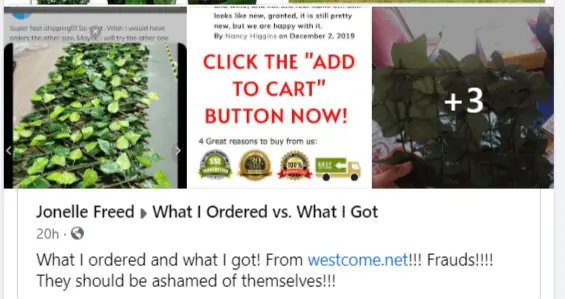 Faux Expendale Fence Scam
Westcome.net claims it is selling 19 inches of faux expendable fence for 70% off. What they fail to tell you is that the 'leaf fence' is just 9 inches, very small. Also, it is made in China.
Suspicious Nature Of Westcome.net
Apart from the points mentioned above, we find other reasons why we think this e-commerce is not a safe store to shop from. Below are reasons why you shouldn't shop from Westcome.net –
This store was registered three months ago, but it already has negative reviews on Facebook.
What We Found about Westcome.net!
At first glance, Westcome appears to be a legitimate online store selling garden fence. However, on further investigation, we discovered this store is among a chain of fraudulent online stores using same suspicious email and phone number.
Also, customers who had shopped from Westcome.net were unsatisfied with their order. Some people received piece of junk while others never received anything.
We don't recommend this online store. We advise you to buy from trusted sellers on Amazon, as you can always get your money back if you're not satisfied with your order.