Do you want to invest on Wambo coin in Wambocoin.io? Has someone told you about Wambo and you're considering buying the coin? Read this review to find out if it is worth your money or if it is a potential scam.
This review serves as an eyeopener to help you make the right decision about Wambo.
We hope this review meets you well, and on time.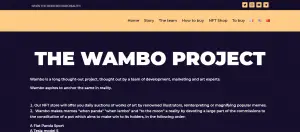 What is Wambo?
Wambocoin.io presents itself as a well thought out project by a team of development, marketing and art experts. This project intends to penetrate the NFT market. In order to partake in the project, people are told to buy the Wambo coin. This can be done via –
Creating a metamask wallet
Purchase some BNB on the CEX of your choice
Withdraw it to your metamask using the Binance Smart Chain.
Trade your BNB for some Wambo
Looks pretty cool right? Unfortunately Not!
During our investigation, We discovered the following can of worms;
Not Licensed
Wambocoin.io is not licensed or regulated by any regulatory body. Normally platforms like this should have an ANJI approval or AMF approval before marketing to French population. Regulatory bodies like the ones mentioned, act as a watchdog over the activities of crypto platforms. So if anything fishy is happening, it is exposed.
In this case, Wambo isn't, so your financial security isn't guaranteed.
Lacks Professionalism
A look at the website shows the following loopholes.
No legal mentions
No Terms and Conditions
Absence of phone number and contact address
Anonymous owners
This is common with untrustworthy crypto platforms. You don't need a seer to tell you that the people behind the website are a bunch of unserious people.
Shitcoin called 'Wambo Token'
You might have been told that the investing in the crypto currency 'Wambo coin' would help you get some leverage in NFT shop. Unfortunately, this is not true. Wambo Coin is a Shitcoin.
What are shitcoins?
"Shitcoin" is the name given to cryptocurrency that's useless and has no value. These cryptos were created as copycats — currencies. They don't have clear goals.  They don't have the longevity of other coins.
Wambo has been classified as a shitcoin due to the following reasons–
The developers are mysterious. The people behind a project should be trustworthy, not a random group of strangers using fake names. If the developers have identified themselves by video on Instagram or Youtube, for example, they're considered doxxed and much more trustworthy. With their appearance known by the public, it's much less likely to be a scam.
The project has big promises, but has no defined functionalities.  If a project avoids defining the functionalities, it's not trustworthy.
Aspects of the project seem copied or generic. If a project's website looks generic or uses a free domain, that should be a red flag. It signals that it lacks the authenticity of a true, well-developed project. 
So yeah, I wouldn't go near the website, not even if it offers a thousand BTC. (Laughs, I might consider that tho)
Afterword – Wambo Scam
Like Earnvar, Wambo is another soft scam. It might look real at first, but in reality the coin is worthless and would never increase in value. After acquiring up to 200k Wambo, you'll only use it to buy the trashy arts on the website's NFT shop. The money goes straight to the anonymous makers of the site.
In the long run, the only people who'll benefit from the Wambo project are the makers. They're the only ones winning.
This is what someone has to say about Wambo –
The project is led by Gaël Toullic who calls himself Kroc Blanc.

He is a far-right crook who brings together a community of 5,000 far-right members.

The scam is subtle: buy tokens of a cryptocurrency and keep them for the hope of winning a fiat panda.

The tokens are bought from Gaël Toullic himself, who converts these tokens into dollars via Binance.

ScamDoc
Our Recommendation
There are lots of online investment opportunities which could fetch you money and give you a good Return On Investment. We've taken out time to research on legitimate platforms for you.
For Legit profitable Cryptocurrency Mining Platform  Click HERE
WAIT ✋🏾 You can also make money online by trading with reputable, reliable and trustworthy Forex brokers. We've been trading with the Fortrade broker for sometime now and we have no regrets!
Interested in trading with one of the best Forex brokers? Head Over to Fortrade and start trading!