Is Ultimate Table Perfect Nightstand for $40 Real? Did you stumble on the Ad on TikTok? Read this review to find out the truth about the advertised smart table.
According to FTC, online shopping and fake reviews is the second most reported fraud category in 2021. As a result of this, we have taken the responsibility of reviewing products, stores, websites etc. for our reader's financial safety.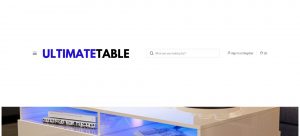 What is ultimatetable.co Website?
Ultimate Table Co is currently the rave of the internet because of its $39.99 Perfect Nightstand which is been advertised on TikTok.
Sadly, just like similar Ad on TikTok we reviewed earlier, ultimatetable.co is not a genuine online store. During our investigations we discovered the following drawbacks –
The store gives the impression that it is located in the USA, but in reality it is not located there. There's no office or warehouse by the name 'UltimateTable' in the given address '512 N Hampton STE 300 Desoto, TX 75115'
The website was registered on 29th December 2021 as can be seen here. This shows the store lacks credibility. It has only been operating for few days.
The real price of the smart side table falsely advertised as Perfect Nightstand is $899.99, and it is available on Amazon. It is called 'SOBRO Smart Side/Nightstand Table'. It has the following features – Cooling Drawer, Wireless Charging, Bluetooth Speakers, USB-C and 120V outlets, LED Light.
BUY SOBRO SMART SIDE/NIGHTSTAND TABLE ON AMAZON
Other Reasons why you shouldn't shop from Ultimatetable.co:
Customer Complaints
Customers who shopped from this store never received any feedback after placing an order. There was no Confirmation email or Tracking details. When they tried contacting the store through the Contact us form, there was no response.
Shady Refund Policy
This store's refund policy is just a sham. In the real sense there's no way to contact the store for a refund. The only way you can get your money back is by making a complaint to your credit card company.
Is Ultimatetable Co Legit?
From the crucial points noted above, ultimatetable.co clearly lacks legitimacy. The website uses unbelievable discount to attract customers on TikTok, then defraud them by failing to send the item ordered.
Conclusion:
ultimatetable.co is not an authentic online store to shop from. It has a poor trust score and as such not recommended by us. Customers who shop from this store would either receive a different cheap item or nothing at all.
Have you been scammed?- Do This
Shopping from this store exposes customers to the risk of hacked credit card and overcharged fees. Also, customers would either receive an inferior item, a different cheaper item, or nothing at all.
Therefore, it is advised to file complaints to your bank and request for a new credit (debit) card. On the other hand, if you used Paypal as a method of payment, you should document (screenshot) the transactions for future purposes.
Yes, it is true that online shopping has made life easier, however when ordering things online check out the following-
How old is the website? Does it provide return address? Are there customer reviews online? Do the social media icons work?
Always remember you can get the items from trusted sellers on Amazon, like the ones provided above. One of the advantages of shopping from amazon is the return policy. If you are not happy with your order, you can always return your items and get your money back.