If you plan on making any form of investment with tradesview.io brokers, STOP! TradesView is an offshore broker, it is a scam and simply should not exis. Read this review to understand why we are sure tradesview.io is a scam broker.
The rate at which scammers pop up on the internet, pretending to be honest brokers makes it difficult for investors to know which is which. Our job here is to review these websites that claim to one thing or another, then help you tell legit from deceit. The following review will tell you all you need to know about TradesView brokers.
About TradesView Brokers
TradesView brokers pose themseleves as a team of professionals with lots of forex trading experience, risk management, derivatives and international laws and legislation. The address provided by their website, tradesview.io, sets their location at Charleston, USA. Made available as well, is a contact phone number and an email address.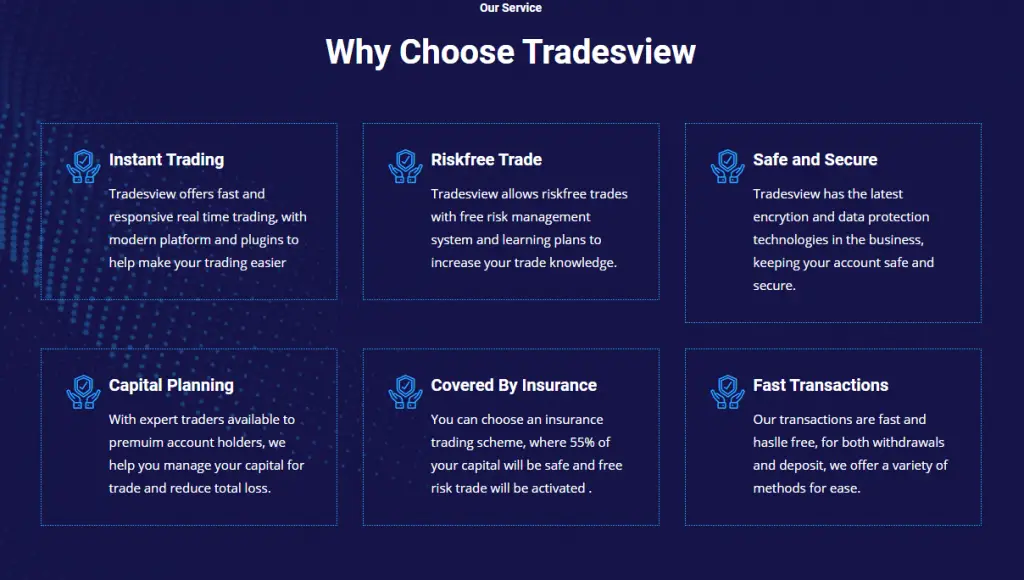 In the photo above, tradesview.io points to some of the reasons they feel they should be patronised. They also claim to have completed over 119k trades with over 10k clients. Somewhere close to the bottom of their page is the feedback section. This section contains just 3 client feedbacks constantly in slideshow. And they all conveniently leave a 5-star rating. But is any of this even true? We think not.
Why You Should Be Wary of Tradesview.io
Tradesview.io brokers try their best to appear as a decent brokerage company, but we feel there's more to them than meets the eye. These are the reasons why?
TradesView Address/Contact Information
The address and the phone number provided by Tradesview brokers trace them to the United States. And very rarely do the phone number and address match when it comes to scam brokers. This is one reason we salute them for trying their best.
However, we do not relent so easily. The domain name itself gives them away. ".io" is a domain name belonging to a British Indian Ocean territory. It is an offshore location and is normally used by shady brokers. The fact that the address and the domain name do not correspond is one reason to be woried.
Tradesview.io Trading Platform
Tradesview brokers use an unusual sort of trading platform, and this is not just due to the fact that it is purely web based. These brokers offer plans instead of account types and their demo accounts are about unrealistic as it can get. Worst of all, they do not even make use of the MetaTrader4 or MetaTrader5 platform used by legit brokers.
There are 6 plans offered by tradesview.io; starter, premium, pro, silver, gold, diamond. The least expensive of them, starter, goes at $500. This is outragerous considering legit brokers usually charger $100 or less as minimum deposit. All of these plans come with weird bonuses, which is unsurprising as it is something scammers use to lure unsuspecting victims.
Most of these bonuses have been stopped by the EU for a while. The aim is to distinguish real brokers from fake.
TradesView Licensing and Regulation
TradesView brokers claim to have their base of operations in the US. It was only natural that we checked with the CFTC for their registration status. As expected, we found that TradesView is neither registered as a business, nor licensed as a broker.
The second location, Indian Ocean, is regarded as an offshore location and will not matter, registered or not. It has a reputation for birthing illicit brokers. You will do well to avoid brokers from there.
TradesView Review Conclusion: Is tradesview.io Legit?
No. Tradesview is a non-licensed broker who operates from an offshore location. What this means is, if you trade with them, chances are you won't find your money's worth at the end of the day. We always recommend you find a licensed broker, regulated by a reputable agency to trade with.
Trade With TOP RATED Brokers Instead!
[supsystic-price-table id=10]