Do you want to buy SOFTHUG fluffy blanket set from thesofthug.com? DON'T do so! Thesofthug com is not a legit online store selling fluffy blankets & bed covers. Read this honest review to find out why we do not recommend shopping from the website.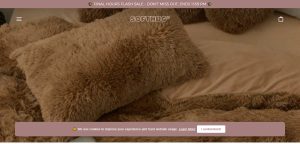 Reasons Why We Don't Recommend Shopping from Thesofthug.com
Fake Contact Address
The address 'Čapkova 768, 357 35 Chodov , Czechia' is fake. When we contacted the building, we were told there's no business that sells blankets or bed sheets on the given address. This is clearly a case of using fake address to mislead buyers.
Suspicious Nature
 Thesofthug.com shares same website design, contents and layout with Cloudlyofficial.com, a shady blanket online store we reviewed a week ago. This is clearly a sign that Thesofthug is not genuine.
Website Creation
The website was created recently in May 2023 and expires May 2024, this is a sign of an easily disposable website thus it is suspicious.
Too Good To Be True Prices
This store uses it low price as a bait to make you shop from them. It is impossible to buy a fluffy blanket of that size for the price listed on the site. Do you know the price of National shipping on an item of this size as well as the wool material used?
Negative Reviews
The customer reviews on the order page of Thesofthug.com are not real. Isn't it suspicious that the ratings are all 5 stars? Meanwhile, real buyers have left reviews stating that Instead of fluffy blankets they received gloves. See complaints below;
They say they have a warehouse in New Zealand, hello I live here & it took a month to receive four rubber backing pads on a paper sent from China, 😡

They have not answered any of my emails, since I received my 'so called fluffy blankets x2'

I have thrown my money away, feel like disappointed & fuming 🤬

Liz
After waiting a while past the so-called 4-6day shipping/delivery claim, I became suspicious of the tracking details of which seemed ambiguous and dated back in January. The purchase was made in April! No reply to my email enquiry and then today came home to find the tiniest package of yes, the four bandages. Sickening. My kids, for whom I made the purchase, were straight onto it being a scam! Sad really. $47 down the drain. The ad popped up on instagram and they were looking forward to their fluffy bed covers. I wasn't expecting anything top class for the price, but I certainly wasn't expecting these sticky bandaids. Yuck. Even one of my dismayed kids said they'd be too small for the bed.

Debra
Is Thesofthug.com a Scam?
Thesofthug.com is not a legit online store to buy fluffy blankets and bed covers. First of all, the store is not located in Czechia but in China so delivery takes months. Secondly, instead of sending the blankets ordered, Thesofthug.com sends its customers bandages. Thirdly, the store does not grant returns or refunds of whatever kind.
So yes, thesofthug.com is a scam, and not a legit store. Hence we do not recommend shopping from the website.
Conclusion:
From all indications, thesofthug.com blankets is not a legit offer. Customers who shop from the store will be defrauded and have no way of getting their money back
Have you been scammed?- Do This
Shopping from this store exposes customers to the risk of hacked credit card and overcharged fees. Also, customers would either receive an inferior item, a different cheaper item, or nothing at all.
Therefore, it is advised to file complaints to your bank and request for a new credit (debit) card. On the other hand, if you used Paypal as a method of payment, you should document (screenshot) the transactions for future purposes.
Yes, it is true that online shopping has made life easier, however when ordering things online check out the following-
How old is the website? Does it provide return address? Are there customer reviews online? Do the social media icons work?
Always remember you can get the items from trusted sellers on Amazon, like the ones provided above. One of the advantages of shopping from amazon is the return policy. If you are not happy with your order, you can always return your items and get your money back.