Did you stumble on the Ad from shopaquapulse.com or shoptheaquapulse.com that says Aquapulse water gun is going out of business? Is Aqua Pulse Water Gun worth buying? Read this review to find out if Aqua Pulse Water Gun is a legit product or a scam.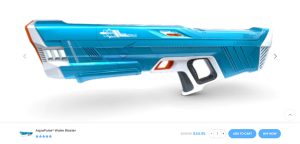 Aqua Pulse Water Gun: What Is It?
The AquaPulse Water Gun is an electric water blaster gun used for fun playing. With it, you can target up to 25 feet away with pinpoint accuracy. On its PowerShot mode you can even have a range of over 50 feet. You only need to charge it for an hour.
Sounds like something you'd like to buy, right? DON'T do so yet! During our investigations we discovered some shady things about the Aqua Pulse Water Gun and the websites selling it.
Is Aqua Pulse Water Gun a Scam or is It Worth Buying?
From evidence uncovered, AquaPulse water Gun happens to be a scam product. First of all, it's the exact copy of SpyraTwo water blaster which is made by a known water gun company. In fact, the only difference between the AquaPulse and SpyraTwo is the absence of the name 'SpyraTwo' on the side of the blaster gun. This is actually a smart move but not smart move. A close look at the Aqua Pulse Water Gun image show it has been photoshopped, and the word 'SpyraTwo' completely erased.
Secondly, it's sold for unbelievable discount price of $44.95, plus the outrageous offer of 'Buy One Get One Free'. The price range of water blaster guns of that size and specs is between $150 – $200. This low price is just a bait to make people fall for the scam.
Thirdly, the contact address given by the websites is a fake one. The address '451 Wall Street, US, Stockton' is that of a single family home, not an office space or warehouse. The websites shoptheaquapulse.com and shopaquapulse.com were both registered on May 2023 and will expire on May 2024. Doesn't this tell you something?
So yes, Aqua Pulse Water Gun is a scam, the reviews on the website are fake and not from real customers. Buyers will either receive a cheap small toy gun or nothing at all. The telephone number does not work, and the address is not real, so customers wouldn't be able to get refunds.
What To Do If You've Already Paid For Aqua Pulse Water Gun?
The first thing you should do is contact your bank or financial institution to cancel the transaction. If you do this quickly, you can get a chargeback immediately. However, in the case of completed transaction, you should file a dispute claim.
Securing your credit card information is the next step you should take, especially if you created an account on the store or use the same password for other online accounts. By doing so, you'll prevent hackers from accessing your accounts and stealing your personal information.
Conclusion:
Aqua Pulse Water Gun is not a legitimate product. It's a copy of SpyraTwo and marketed by scammers who intend to lure buyers with the discount sale. Customers will receive a cheap plastic toy, not the electric water blaster gun they ordered.
Easy Steps To Protect Yourself From Online Shopping Scam This 2023
According to FTC, online shopping fraud is the most reported fraud category of 2023. Below are steps to take in order to stay safe and avoid this kind of scam;
Check the Domain age – How old is the website? (You can do so by visiting who.is)
Physical Location – Does The website provide return address? If Yes (Copy the address and paste on your browser. Google map would show if it is a real warehouse address or a residential address)
Check Reviews – Are there customer reviews online? (It is advised that you sit it out if there are no customer reviews of the store. However if you're not patient enough to wait you can send a mail to us to verify if the store is legit)
Social Media Presence – Do the social media icons work? (A lot of fraudulent websites provide social media buttons but they don't work. It is advised that you check if the buttons really take you to the store's social media page)