The website 'Surveyj.co' claims it is an affiliate marketing company that can make you $500 daily. Unfortunately, it is not a legit website. See the drawbacks of this website below –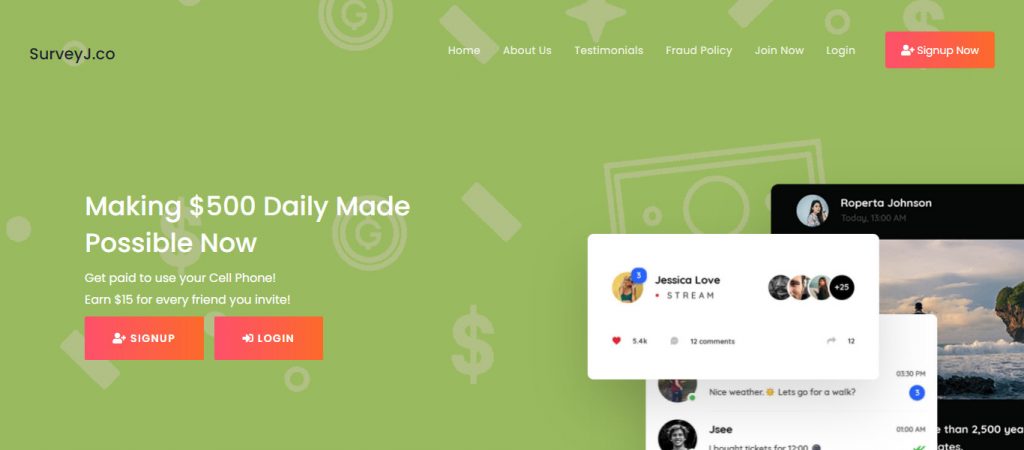 Surveyj.co Red Flags
False Claims
This survey site claims to have paid over $7Million. Which is obviously false because the website was created On April 2021. Barely three months and has issued that amount of money?? No Way!!!! Moreover if it is so, why are there no positive reviews online about the site?
If people have benefited from the $7 Million there should be a lot of reviews and testimonials promoting the survey site. But this isn't the case.
Absence of Business Address
The owner(s) of this site has carefully omitted their location from the site. When we tried digging up information about the website details, we discovered it was registered in Amsterdam. Apart from that there's no information on the internet about the website, as the owners have gone an extra mile to remain anonymous.
Lacks Professionalism
Another reason why you shouldn't take this website serious is that it is just a sham. Why? You can register with a fake email address and still login to your account. They don't have email verifiers like legit sites should have.
Poor Customer Support
The contact details for this website has a low score. Recently the 'Live chat' option was removed so the only way users can contact this site is by an email. '[email protected]'. Unfortunately, there's no active customer service personnel answering the mails.
Fake Testimonials
The reviews and testimonials on the site are all fake. Users are told to submit a video before receiving their earning. When they do so, these videos are uploaded on Surveyj. But these users don't get paid as they can't withdraw their earning!
Also, the written reviews are fake. When we did a reverse image search on Google, we discovered that the pictures were stolen from the internet.
So to say, the profiles are fictitious.
SurveyJ Co Reviews
From the reviews seen on Reddit, TrustPilot and YouTube, SurveyJ does not pay its users. After completing tasks upon tasks, and referring people, users are unable to withdraw their earning.
Below is what a user have to say about this platform –
Scam! Completed several offers and surveys and my record of it just up and disappears out of nowhere, thus, not making me complete the required tasks to get offers. Not disappointed about the loss of invisible money lol some things are too good to be true, but disappointed that I wasted a couple hours doing so. Oh..and was supposed to receive over 1k…yea right lol.

Darra
Afterword – SurveyJ Scam
Is surveyj.co a scam? Is SurveyJ Affiliate Marketing Company a scam? Yes, it is a scam. The survey site does not pay users after they complete tasks and invite people to the site.
Currently, it promises to pay users on August 7 and 8. But honestly, it is just the modus operandi of similar dubious sites. On the proposed date the website will shut down.
Just like Use2earn, moneygenie.co and earncashto,  this site sells your personal information like your email, number and credit card info to the dark web. No matter how many referrals you bring to the platform, and how many tasks you complete, you will never get paid, not even a single cent.
Have you used Surveyj.co? Were you paid? Please share your experiences below