Do you want to buy Storgap Beta Watch from outerwatches.com? Read this review to find out why this might not be the best option for you.
According to FTC, online shopping and fake reviews is the second most reported fraud category in 2021. As a result of this, we have taken the responsibility of reviewing products, stores, websites etc. for our reader's financial safety.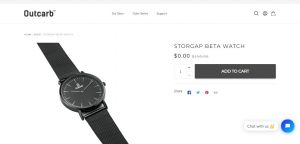 About This Product
Storgap Beta Watch is been sold at outerwatches.com by a company called Outcarb. According to advertisements online, this company has endorsements from Elon Musk and other celebs. The wrist watch allegedly comprise of an textured metallic band as well as the dial is analog.
Currently, the wrist watch is been offered for free because it's a prototype under test in January 2022. Thus, the company is offering samples for free to over 120 countries in the world. You only need to pay for shipping and delivery.
Sounds incredible right? sadly this product, like every other too good to be true product, isn't a legitimate offer.
During our investigations we discovered the following drawbacks –
Drawbacks and Complaints of Storgap Beta Watch
Deceptive Advertising
Storgap Beta Watch is sold by Outcarb (outerwatches.com) an online store known for fake free watch sale. As far back as 2019, this company engages in cheap marketing on an even cheaper watch. The claim that the watch is worth $150 is totally false. In reality, it is a $5 watch. Customers get to pay $16 shipping for a $5. The company pockets the balance.
Not Supported or Endorsed by Elon Musk
The claim that it is endorsed by Elon Musk is not true. Sorry, Elon Musk NEVER posted about this, nor would he support outcarb watches spam campaigns.
Shady Return Policy
Outerwatches.com claims it offers a 30 day return policy, but this is untrue. When you request for a refund, you'll be made to pay for shipping to Romania which is almost the price of you paid to get the watch. The return policy is so skewed that in the end you're stuck with the watch.
Specifications
Stainless steel with black brushed texture
Round Shape
40 mm size
Analog dial type
Coloris Black.
interchangeable Strap
IP64 water ressistant.
Conclusion:
From all indications, Storgap Beta Watch is really not worth $150 as claimed by outerwatches.com. In reality, it is worth far less than the amount paid for shipping it. Meanwhile, Outcarb 'the parent company' already has a bad reputation online. This can be seen on Quora and Reddit. Of a truth, there's no such thing as free watch. And the claim that Storgap Beta Watch is a prototype undergoing testing is totally false.
Have you been scammed?- Do This
Shopping from this store exposes customers to the risk of hacked credit card and overcharged fees. Also, customers would either receive an inferior item, a different cheaper item, or nothing at all.
Therefore, it is advised to file complaints to your bank and request for a new credit (debit) card. On the other hand, if you used Paypal as a method of payment, you should document (screenshot) the transactions for future purposes.
Yes, it is true that online shopping has made life easier, however when ordering things online check out the following-
How old is the website? Does it provide return address? Are there customer reviews online? Do the social media icons work?
Always remember you can get the items from trusted sellers on Amazon, like the ones provided above. One of the advantages of shopping from amazon is the return policy. If you are not happy with your order, you can always return your items and get your money back.