Do not fall for the September Cash 33 $750 for 20 deals. It's a scam offer. The SeptemberCash33 claims to pay users for completing tasks, but fails to deposit the earnings to the Cash Account after the deals is completed.
We investigated September Cash 33; Here's why it's a scam and why you should avoid it at all costs.
September Cash 33 Details
This is how SeptemberCash33 site claims you can earn money; $20 when you download a mobile game or app, $30 when you subscribe to a service, $25 when you participate in a trial, and $40 when you make a product purchase.
Sadly, these offers are not only unrealistic but fake.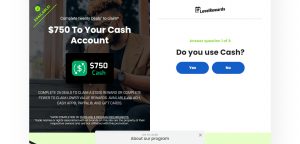 Reasons Why SeptemberCash33.com is a Scam You Should Steer Clear From
You Wouldn't Get Paid
After spending more than one hour downloading applications, watching videos, and subscribing to services, you would not receive a single dime from the site. Even after sharing the link to 20 friends online. This is quite common with the fake rewards site reviewed in the past.
It Redirects Your Browser To Unsecured and Malicious Website
SeptemberCash33.com redirects your browser to either flashrewards.co or rewardsgiantusa.com. Two survey websites known for malicious intents. Of course, reviews online show that after completing surveys or tasks from the sites, users don't get their earnings, rather they receive phishing emails. See this thread on Reddit, and also here on Trustpilot
Steals Your Personal Information and Data
The site engages in a kind of scam called phishing scam. Before participating in deals, you'd have to submit your personal data like; full name, email address, phone number, home address, date of birth, and payment information. These information are then sold on the dark web, and used to commit financial fraud.
Unveiling The SeptemberCash33.com Scam Format
Septembercash33.com is modelled after similar fake $750 cash rewards site that ended up scamming unsuspecting people. March2023, AprilCash2023 ,MayCash35, Junecash33, Julycash30,etc. These sites keep popping up every month with the same website design and fake promises of rewards.
 It also install apps and programs into computer and mobile devices without your knowledge and consent. These apps and programs are often infested malware that pose a threat and risk to owners.
Conclusion:
Just like Cashapp45, and flashcash4 SeptemberCash33 is a scam website that claims you can earn as much as $750 from the comfort of your home. Don't be deceived! It's all a scam. You wouldn't get paid.