The 2022 Father's day Dewalt Combi Drill giveaway on WhatsApp is a scam, Screwfix has said. It is not real!
The message offers the chance to win Dewalt Combi Drill and links to a fake quiz-style competition.
Just like the Heineken Cooler WhatsApp scam text that went viral earlier this week, the scam text contains a malicious link 'tinyurl5.ru'
When you click on it, it takes you to a fake Screwfix website that tells you to participate in a survey in order to claim your prize. As you do so, the malicious website sends virus and malware to your device. This virus would try to hack into your phone's security and steal your passwords.
The Screwfix Scam on Whatsapp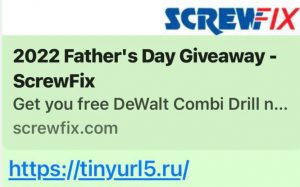 "2022 Father's Day Giveway ScrewFix. Get your free DeWalt Combi Drill now. tinyurl5. ru"
Meanwhile, Screwfix is aware of the "2022 Fathers Day Giveaway" scam. They've issued a warning to the public about it. Always remember; legit companies would never ask customers to provide any personal details via WhatsApp in order to enter a competition.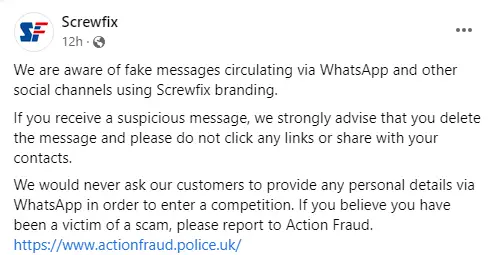 Meanwhile, if you've already clicked on the link you should Install an anti-phishing software. This will scan your device and protect it from any virus attack. You should also report to Action Fraud at https://www.actionfraud.police.uk/
Have you received the father's day giveaway scam link on Whatsapp? Kindly delete it and warn your family & friends. You can also share your experiences in the comment section!