Beware of the Heineken Beer Father's Day Contest 2022 text circulating on WhatsApp and social media. It is a phishing scam. The link attached to the message is a malicious website that sends malware to your phone.
This review expose everything you need to know about this FREE HEINEKEN BEER – FATHER'S DAY CONTEST 2022, and why it is fraudulent.
How Does The Free Heineken Cooler Competition Scam on WhatsApp Work?
The message is created by scammers who aim to steal account credentials, personal and financial information. When people visit the website they will be made to provide their personal information.
This is where the scam comes in. When you provide your credit card information, these scammers will delete every dime you have in your bank account. This is because they're not the legit Heineken company, and they don't have any free Heineken beer for you.
The Heineken Free Beer Father's Day Competition Contest Scam
The message goes like this –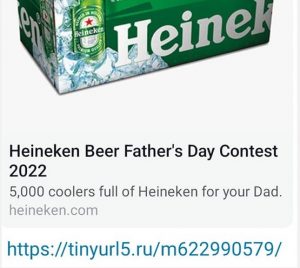 Heineken Beer Father's Day Contest 2022

5,000 coolers full of Heineken for you Dad. heinken.com"
Don't be deceived! It's not from a reliable source. Heineken beer company is not offering coolers of beer for father's day contest. In fact, there's no information like that on their social media pages.
Meanwhile, they've issued a statement, warning the public about the viral scam.
What Should You Do If You Receive Phishing Texts Like This
No matter how convincing it sounds, you shouldn't visit the link or links attached to such messages/mails or send your personal information.
The first thing you should do is ignore such messages, and look for reviews online about it.
Always remember that Legitimate companies do not ask their winners to send money or personal information in order to collect their prizes.
See similar Giveaway scams – Amazon Package Loyalty Reward, UKPepsi Lottery Scam, Eyeverify, Bath$Body Coupon, Amazon Airpods Raffle Scam, and many more.