Looking for a 100% safe or natural bug spray? Do you want to buy Stem bug spray? Does it really kill insects or is it a scam? Read this review to find out!
Our Review serves as an eyeopener. We hope it meets you well, and on time.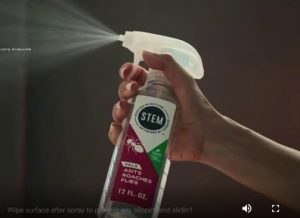 Stem Bug Spray: What is It?
Stem Bug spray is a killer spray that kills and repels insects of all kinds; whether flying or crawling. This insecticide uses plant-derived active ingredients to fight nature with nature. One of the best feature of it, is that It's safe to use around your kids and your pets (when used as directed,) both indoors and outdoors.
Meanwhile, the official website for this product is stemforbugs.com
Unboxing & Testing
The STEM bug spray comes in a smooth long container. This is how to use it –
Shake well (vigorously) to thoroughly mix.
Hold the spray upright, about 18 inches away from your targeted bug, and press firmly on the spray nozzle for about one second.
Wipe clean targeted surface
What we Like about Stem Bug Spray
 It is an all-natural product with botanical ingredients rather than DEET, which can be irritating to the skin. We haven't had any problems with this product on our skin.
We love that this is safe around pets and kids.
Love that this product doesn't have added fragrances or dyes. It has an all-natural scent of lemongrass from the essential oil ingredients. I have trouble being around an "all natural" insect spray that a friend uses – it irritates my eyes and nostrils, but this product doesn't do that.
What we Don't Like
 It leaves a very slippery oily substance on the tiles and hardwood
it depends on a direct hit. As the label says, "Please don't spray up into the air. Wait for flying insects to land before treating"
Does The STEM Bug Spray Really Work?
STEM has a four star ratings on Amazon, showing that majority of customers are satisfied with the product. According to users, the STEM bug spray is effective on more than just mosquitoes – it seems good on a lot of different kids of flying insects.
However, just like we mentioned above, a handful of customers have a problem with the spray's greasiness. See what a customer has to say –
I found a lot of problems with this insect spray. It's not what I'm used to. First – don't spray the air and discourage insects/kill the ones in the area. You're supposed to look for insects and spray them directly in a DOWNWARD motion. And the spray will stain floors, carpets and textiles. It will also make tile floor slick and slippery. 

Miss Barbara
Conclusion
STEM bug spray seems to work very well, but it depends on a direct hit. Aside that, it is an effective non -toxic repellent that is safe for use around kids and pets. Meanwhile, there are various reviews from customers online just like NanoSparkle.
Have you bought Stem bug spray? What are your experiences so far? Please share on the comment section!
Prefer to do so anonymously? All you need to do is go here >>>> Fill The Form