Should you buy the Mosquito eliminator from redseaa.com? or is it another fake mosquito trap? Read this review to find out its legitimacy!
With online scams springing up every day, we have taken the responsibility of reviewing products, stores, websites etc for our reader's financial safety.
This redseaa mosquito eliminator review exposes everything you need to know about the product and the website selling it.
Redseaa Mosquito Eliminator- Is It Worth It?
One of the reasons why this mosquito trap is the rave of the internet is because of the Innovative middle school boy story and the claim that this is a genuis product that solves the problem of mosquito bites.
However, when you dig beneath all the so called positive reviews online, you'd see that there are no genuine customer reviews of this product. The seemingly positive reviews were written by affiliate marketers who don't care if the product actually works or not. What they are after, is their commission at the end of the day.
It is true that this website seems legit, however what you should be worried about is if this mosquito eliminator will really work or would it join the pile of useless items you bought online through Facebook ?
What You Should Know About Redseaa.com
Redseaa.com is the official website of Redseaa, the online store that sells the viral mosquito eliminator. However, though the website looks legit there are a couple of red flags that you shouldn't ignore.
Shady Customer Support
Redseaa has only provided an email address as the means with which customers can contact the store. Though this is not abnormal, it should be a cause of alarm.
A search online showed that the email address '[email protected]' is connected to multiple online stores which have been flagged down as suspicious, fraudulent, and untrustworthy.
The reviews here indicates that the company behind Redseaa indulges in bait and switch scam. Customers received completely different items from what they paid for.
Copied Contents
The contents on redseaa.com are not original. As can be seen from the screenshot below, the About us details and other written contents have been copied from other websites. This is not how genuine websites work.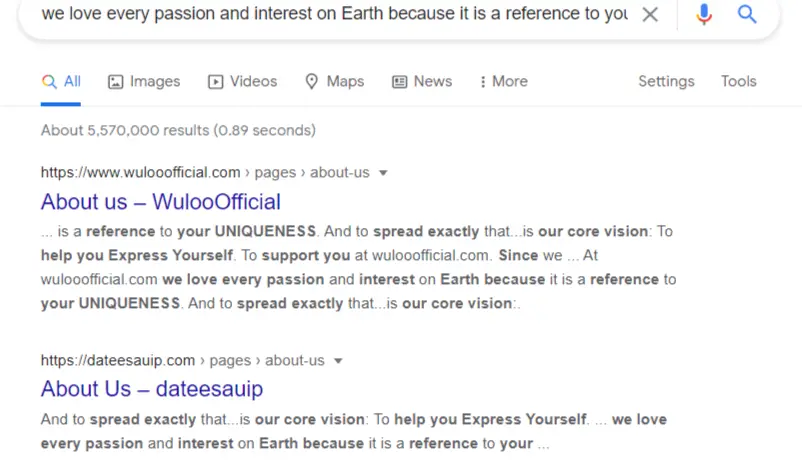 Every website is treated as a unique site by search engines no matter if the owner of two or more sites is the same. What this means is that contents present on each site must be unique. If it is not then the site is not a good site.
Like the saying 'content is king', a website with stolen contents is never regarded as a trustworthy site.
Customer Reviews
Redseaa website does not make provision for customer reviews. When a buyer shops from this store, there is no option to rate the experience or drop a review.
This doesn't look good. Trustworthy stores are always transparent about their transactions. For Example in Amazon and Aliexpress, buyers can easily see reviews left by customers and decide for themselves if the seller is worth the buy.
Furthermore, no reliable source has received redseaa.com customer Reviews for any of the products sold in the store.
Security of The Website
Redseaa.com is not a secured website to shop from. It uses fake trust seal logos of Norton, McAfee, VeriSign, etc. on its few Product detail pages. If you shop at this site, your credit card information might get stolen.
Does Red Sea Mosquito Really Work?
The answer to the question is complicated.
What you should know is this 'Redseaa Mosquito eliminator is not a new or unique product. There are similar ultraviolet mosquito lamps like this. The seller simply rebranded it and invested a lot on Facebook advertising.
However, users of this mosquito eliminator were not completely satisfied with the product. From the reviews online, the mosquito killer lamp does not work as claimed. It kills mosquitoes quite alright, but very few mosquitoes.

Is Redseaa Mosquito Eliminator A Hoax?
New York Times has addressed the issue on this article here. The truth is that bug zappers work by emitting a UV light that attracts bugs to the center of the device, where they're electrocuted. The only problem: They aren't killing the bugs that bother you.
Forget the positive reviews online, A study from the University of Delaware tracked six residential bug zappers over a 10-week period and found that of the 13,789 insects killed, only 31 were biting flies (including mosquitoes). That's a sad 0.22 percent. Given this, it's no shock that the authors of the study concluded that bug zappers are "worthless for biting fly reduction." 
So what are the better ways to kill mosquitoes?