Have you received an email about a class action settlement against Porsche and Volswagen dealership? Do you want to find out if the email this class action settlement is legit? Keep reading for more details.
Porsche Gasoline Settlement Email 2022 – What Is It All About?
It is an email informing US citizens of the latest information concerning the Porsche Gasoline Settlement Vehicle Emission Control. The email is real, and the official website for submitting a claim is porschegasolinesettlementusa.com.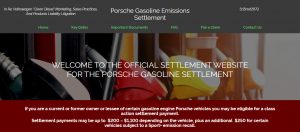 What Is Porsche Gasoline Emmision Settlement All About?
It is an agreement reached by Porsche and Volkswagen (the "Defendants") It is known as a Consumer Class Action Settlement Agreement and Release (the "Settlement") to resolve claims that certain Porsche-branded gasoline vehicles sold or leased in the United States produce excess emissions and/or obtain worse fuel economy on the road than in testing conditions. Porsche and Volkswagen deny the claims but have decided to settle.
Those Eligible This Settlement Are –
Former owners, lessees, and non-original owners of gasoline engine Porsche may be eligible to claim compensation. Certain Class Vehicles will receive compensation based on changes to fuel economy, which will be reflected in an updated Monroney Label, and payments for those vehicles will vary based on months of ownership/lease. Class Vehicles with Sport+ Mode that are part of the ongoing Sport+ emissions recall will receive an additional $250 for completion of the recall. The total value of the Settlement is at least $80 million
How Much Will You Get From The Settlement?
It's impossible to tell how much you can get from the settlement. The maximum cash payments you will get fromit range from approximately $200 to $1,100 for original and sole owners of the Class Vehicles. It depends on the model and model year of the vehicle.
How To Submit Claim:
If you're eligible for the payout, you should submit your claim here. The federal court has granted preliminary approval of this Settlement.
For more information about what the Settlement covers, please click here. Additional information is available in the Important Documents and FAQs about the Settlement.
Meanwhile see other class action settlement here You can also check if you're eligible for Bcbs settlement here