Are you looking for ways to clean and repair your clogged pores? Do you want to buy Pore Renew peeling mousse from buyporerenew.com? Read this review to find out what users think about this As Seen On TV exfoliating foam.
Our Review serves as an eyeopener. We hope it meets you well, and on time.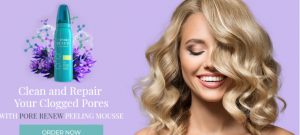 What is Pore Renew?
Pore Renew is a peeling mousse that removes clogged pores. It allegedly exfoliates, hydrate and tighten your facial skin making it look firmer, smoother and fresher. The perfect solution for all skin types and of all ages, it washes away all the hidden impurities and the visible results can be seen under a high magnification microscope.
It contains the following ingredients;
Hyaluronic Acid 
Amino Acid
Bakuchiol 
These three ingredients absorb and remove even the toughest of guck from facial skin
Meanwhile, the official website for this product is buyporenew.com
How To Use
Apply on dry skin in a circular motion.
Wait for sixty seconds
Then wipe away to release the buildup.
Things You Should Consider Before Buying Pore Renew
Deceptive Advertising
Unlike what the advertisement claim, the gunk that you see on the cloth after rubbing off is the Pore Renew mousse rolling up on your face. It is not the blackheads falling off.
Might Irritate Sensitive Skin
Pore Renew contain a hell lot of ingredients that might tamper with your skin's moisture, especially if you have a sensitive skin. It is in fact not an ideal product for anyone who has an eczema-prone skin, as it is not hypo-allergenic.  It is recommended that people with sensitive skin use moisturizer after using it.
Poor Ratings and Customer Complaints
Just like Green Stick Mask, users have left poor ratings for the product. This shows that Pore Renew is not a good clogged facial skin repairer per se. One user has this to say –
The skin does feel tightened after using it but there has been no change in the clogged pores. Meanwhile, I still continue to have acne. It is more like applying a soap to your face, you feel refreshed and has a cooling effect like mint.

Millie
Does Pore Renew Really Work?
Pore Renew is not as effective as the Ads online claim. In reality, it is just a simple soap that leaves your face feeling refreshed. It doesn't repair clogged pores or remove acne. In fact, it is  just an ordinary face cleanser that helps remove makeup and other superficial impurities like sebum, oil, and other impurities.
Summary
Pore Renew peeling mousse sold by buyporerenew.com is a simple exfoliant . However, you shouldn't have high expectations. It doesn't repair clogged pores or get rid of acne. It is just an ordinary facial cleanser with a mint smell.
Have you bought this product? What are your experiences so far? Please share on the comment section!
Prefer to do so anonymously? All you need to do is go here >>>> Fill The Form