Looking for a super absorbent mop for cleaning? Do you want to buy Mighty Thirsty Mop from mightythirsty.com this April 2022? Read this review to find out what users think about this As Seen On TV mop.
Our Review serves as an eyeopener. We hope it meets you well, and on time.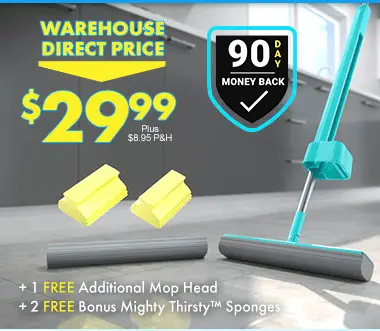 What is Mighty Thirsty Mop?
Mighty Thirsty Mop is a fast absorbing mop designed with polymer. It has a slim mop head that fits under furniture and other tight spots around the home. Aside from that, it also has a wringer attached for easy cleaning that also doubles as a stand for drying.
One of the best feature of Mighty Thirsty Mop is the polymer material which makes it easy trap and lock in dirt. It can also trap pet hair. As a result of this, it does not allow the growth of mold, fungus, odor, mildew, or other bacteria.
Meanwhile, the official website for this product is mightythirsty.com.
Features
Wringer doubles as a stand to store in small spaces
Designed to hold and trap dirt like a magnet
Made of polymer compound which has super absorbing pockets
Easier clean of baseboards and small areas around the home that a regular mop
Dries Completely when stored and not cause any health-related issues
Things You Should Consider Before Buying Mighty Thirsty Mop
Doesn't Fit in a Bucket
One of the downsides of buying this mop is that due to its rectangular shape, it doesn't fit into a bucket. The manufacturers of this product should have looked into making a rectangular bucket that goes with the mop. The best mop design is about the bucket, separating clean and dirty water means no cross contamination, no old mop water smell.
Delivery and Shipping Complaints
Customers who ordered the product on mightythirsty.com, have left reviews on YouTube about the prolonged processing and delivery. According to Michael Walsh, it's almost two months since he ordered the mop, yet it hasn't been delivered. See what he has to say below –
I ordered one on January 8th, 2022 and now on February 21st, 2022 I'm still waiting on it. I called their customer support. Hit 9 on the first menu to hear other products then 3 on the 2nd menu for the Mighty Thirsty Mop and got right to a person to check status of the order. Don't bother with any online options to check the order status. As near as i can tell, they don't work. Unfortunately, she said my order has not even been processed yet! They hadn't charged my card apparently, but still, she said it would be early March before it's processed.

Michael
Mighty Thirsty Mop Review
On Tvstuffreviews, 934 this Mop users have left three star ratings for the product. This shows Mighty Thirsty Mop is an average mop per se. One user has this to say –
The worst mop I've ever bought. It doesn't pick up dirt. Just pushes it around. Head too large to fit in a bucket. Hard to wring unless you have the superior arm strength. Can't be used or wrung out unless the head is soaked for a while.

Millie
Is Mighty Thirsty Mop a Scam?
Mighty Thirsty Mop is not a scam per se. However, buyers should not have high expectations. One of the downsides of this mop is that it doesn't fit into a regular bucket. So you'd need a rectangular mop bucket like Ocello or the Bed, Bath and Beyond brand mop bucket to fix the issue. Meanwhile, there's the possibility of the wringer pulling off the sponge part of the mop in few months time.
Summary
Mighty Thirsty Mop sold by mightythirsty.com makes cleaning easy. However, the mop doesn't fit into a regular bucket, and doesn't come with one. Also, delivery and shipping takes more than a month. Reviews shared by customers show that the mop is a pretty good PVA mop, however it has a couple of flaws which should be looked into.
Have you bought Mighty Thirsty Mop? What are your experiences so far? Please share on the comment section!
Prefer to do so anonymously? All you need to do is go here >>>> Fill The Form