Do you want to buy Pooph Pet Odor Eliminator? Are you wondering if it really works on pets? You are on the right place. Go through this Honest Review to find out if it is genuine or a sham.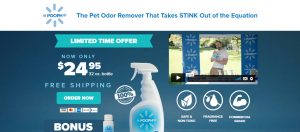 What is Pooph all about?
It is an odor and stain remover that is free of harsh chemicals, free of fragrances, has no VOCs [Volatile Organic Compounds], Hazardous Air Pollutants [HAPs] and yet Commercial grade. Meanwhile, it is also said to be safe for use directly on your pet to eliminate the bad odor coming from your pet's body. Aside from pet odor, Pooph can also be used to remove urine odor, feces, vomit, litterbox, etc.
Does Pooph Really Eliminate Pet Odor and other stains?
Pooph has a 3.9 star ratings on Amazon, showing majority of users are pleased with the outcome of the odor remover.
See what some customers have to say-
Just. Amazing. I have never written a review but I just HAD TO due to how effective and amazing this product is. The two biggest things about this product is the fact that it has no smell whatsoever, yet is more powerful than any other product I've ever tried. Lifelong cat owner here- and I have yet to find a product that is not only SAFE for my fur babies but also doesn't just mask the odor of kitty litter, making it even worse. This product is not just covering up any odors like your average products, it's literally destroying it at the source. I will never use anything else now that I've found Pooph! And neither will you 🙂

Taylor
I could have sprayed tap water on everything and had the same outcome and saved myself quite a bit of money. This stuff does not do one thing the commercial or product information claims. It is also non returnable. I tested this product on my running shoes. It made no difference whatsoever. I tried it on my dogs bed, waited until the solution dried and literally zero change in the odor. Save your money, do not bother buying this product!

Nicole
Advantage
Fragrance-free (non-sensitizing),
No VOCs (Volatile Organic Compounds) or HAPs (Hazardous Air Pollutants)
Safe for people, pets, plants, and the planet
Clear, Odorless, Non-staining
Has some positive reviews online.
Disadvantages:
 The sprayer leaks and the spray is very weak
Does not really eliminate all smells
Conclusion:
Pooph is a viral odor remover which claims to eliminate all kinds of odor, especially pet odor. However, a handful of users were not pleased with the outcome when used. As a result of this, potential buyers shouldn't have high expectations.
Have you heard of Saanvi face cream, we reviewed it earlier.