Are you looking for a true natural deodorant that's great for kids? Do you want to get rid of smelling armpit? Are you considering buying Play Pits Deodorant to keep you odor-free? Don't do so yet. Go through this honest review and find out everything you need to know about this Deodorant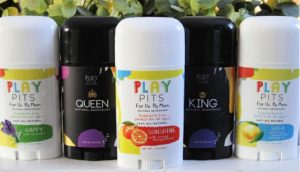 About Play Pits Deodorant:
It is a natural deodorant that is made for sensitive skin and designed to keep adult and kids' pits odor-free. It scent, odor protection and keeping the Pits dry surpasses other products. A Queen deodorant with Lemon, Rich Amber, and Jasmine scents. The deodorant smells very good and keep you fresh always.
Background Story:
Chantel Powell the Creator & CEO of play pits deodorant came up with the idea of producing this deodorant when she noticed that her 6 years old son has started having smelly armpit.
She went to her kitchen (aka The Lab) to make something specifically for Kam. Once he started wearing it he had an idea, "Mom, you should make this for everybody"! With his natural desire to always help others and the power of word-of-mouth, the Play Pits brand grew FAST.
Is Play Pits Deodorant Good For Kids?
Yes! Play pits natural deodorant is good both kids and adults . Customers who have used this product have attested to its authenticity.
They've left some reviews online expressing how pleased they are with the product.
These are what some customers have to say-
I've tried so many natural deodorants. Gotten bit a few times but then I found Native Deodorant and thought to myself, "Ok! I can rest with this one." But then a friend told me about Play Pits! I was hesitant at first because I didn't want to try any new thing that would irritate me. Especially after finding Native. So I didn't try right it away. But this friend decided to purchase it for me as a gift. So now I gotta use it right. I decided to just get it out of the way. I wore it the next day. The first thing I noticed was that it's not firm like most deodorants (was already in love). Kind of spreadable I guess. Honestly, you only need a little and then rub it on. It kept me protected ALL DAY! I saw the little note on the container which mentioned how it withstood a test with a sweaty man for 8 hours or something like that. I can get pretty sweaty under the arms. I did NOT have to reapply Play Pits throughout the day like I did with Native Deodorant. One and done! And my fav is the lavender one. It's such a nice light scent. Honestly no one else can smell it but the wearer. It doesn't leave a film/discoloration/weird smell on your shirts like Native. And the product lasts for a while. After a few weeks I was purchasing new Native. A container of Play Pits lasts well over two months… So I'm resting easy with Play Pits!

Jaimelyn Donato
Finally found a natural deodorant that works all day, smells good, and does not irritate my skin!! PLAY PITS Natural Deodorant for Kids. I'm using the "kids" as an adult and it really holds up all day! for the past year I have been trying all the big natural deodorant brands and have been disappointed. Some left me wet, some irritated my skin, some just didn't last ALL day. Play Pits does everything I need!! First try was with the Lavender Essential Oil scent, and I just ordered the Sugar based on other reviews. So happy to finally have found Play Pits.

TeamMac
Ingredients:
It contains Lemon
Amber and
Jasmine scents
Advantages:
Natural deodorant that is made for sensitive skin and designed to keep adult and kids' pits odor-free
Good For both kids adults
Gender neutral
contains Lemon, Rich Amber, and Jasmine scents
It scent, odor protection and keeping the armpits dry surpasses other products.
There are many positive reviews about the product online
Conclusion:
From all indications, play pits is a natural deodorant for kids. It's also an ideal deodorant for adults with sensitive skin.
Have you heard of Saanvi face cream, we reviewed it earlier.