Did you stumble on the Facebook Ad that is offering Original Patriotic Flag & Bullet Clock for $37.99? If Yes, you need to read this review.
According to FTC, online shopping and negative reviews is the second most reported fraud category in 2021. As a result of this, we have taken the responsibility of reviewing products, stores, websites etc. for our reader's financial safety.
Our review serves as an eyeopener, we hope it meets you well and on time.
Original Patriotic Flag & Bullet Clock on Facebook
An Ad making the rounds on Facebook claims to sell the above item for a discount price of $37.99. While this looks tempting, this offer has been classified as a bait and switch scam.
Victims of this scam receive a cheap clock with low-quality print. This can be seen in the image below –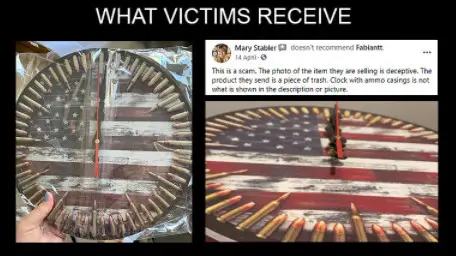 The original Patriotic Flag and bullet clock is produced by Clocknload (on etsy) and the real price is $144. There are more than five hundred reviews from pleased customers who bought this product from this store. See what one of the customers have to say below –

Beware of these fake stores selling this clock-
They're among a chain of scam run by Marul Ltd, a UK shell company scamming for Hong Kong based scam syndicate Hawi Ltd.