Northstate.io is an offshore broker that promises loads and delivers less. Trading with offshore brokers is usually a move one eventually regrets, but don't just take our word for it. Read this NorthState broker review to understand how experts rate them.
With the increase in the popularity of forex trading, the rate at which online scammers appear is also on the rise. Hence, to keep investors from making mistakes, we have made it our duty to review forex broker websites, then help you tell which one is legit and which one's not. This review tells you all you need to know about NorthState Brokers.
About NorthState Broker
Northstate, according to their their website, northstate.io, is owned and operated by a company named Long Creek Partners LTD. They are said to be located in Roseau, Commonwealth of Dominica. This is some disturbing piece of information considering under the "Contact Us" section, the address given there is Zurich, Switzerland.
They trade indices, cryptocurrencies, metals, energies, shares, forex and agriculture. After a thorough look through northstate.io however, we must express disappointment about what we found. This review explains these things, so you can understand why trading with Northstate broker isn't in your best interest.
Northstate.io: Red Flags Detected!!!
Northstate.io is an offshore broker webiste and you should avoid them. Below are the reasons
NorthState Broker Withdrawal and Deposit Policy
The minimum deposit for Cryptechs broker is $250. and despite showing off their logos, usual payment gateways such as Paypal, various debit/credit cards, etc. are not available.
The minimum withdrawal is not specified, but withdrawal fees include; $25 for ePayments, $50 for wire transfers and $25 for card withdrawals coupled with a $10 processing fee. This withdrawal processing could take up to 5 business days, whereas legit brokers need only a maximum of 24hrs.
Also, the account dormancyt fee here is incredibly high, at 10% per month after 6 months of inactivity. It would seem this broker cares more about enriching their pockets than about client satisfaction, because this would do damage to client accounts with thousands of dollars.
All these red flags and a lot more, are common signs of illicit brokers. Be careful to look out for them.
NorthState Trading Platform
As far as the home page is concerned, there is no mention of any trading platform, which is very suspicious, because a trading platform should be one of the biggest concerns of any legit broker. However, the client dashboard provided links to a very poor webtrader platform and a Metatrader 4 desktop software.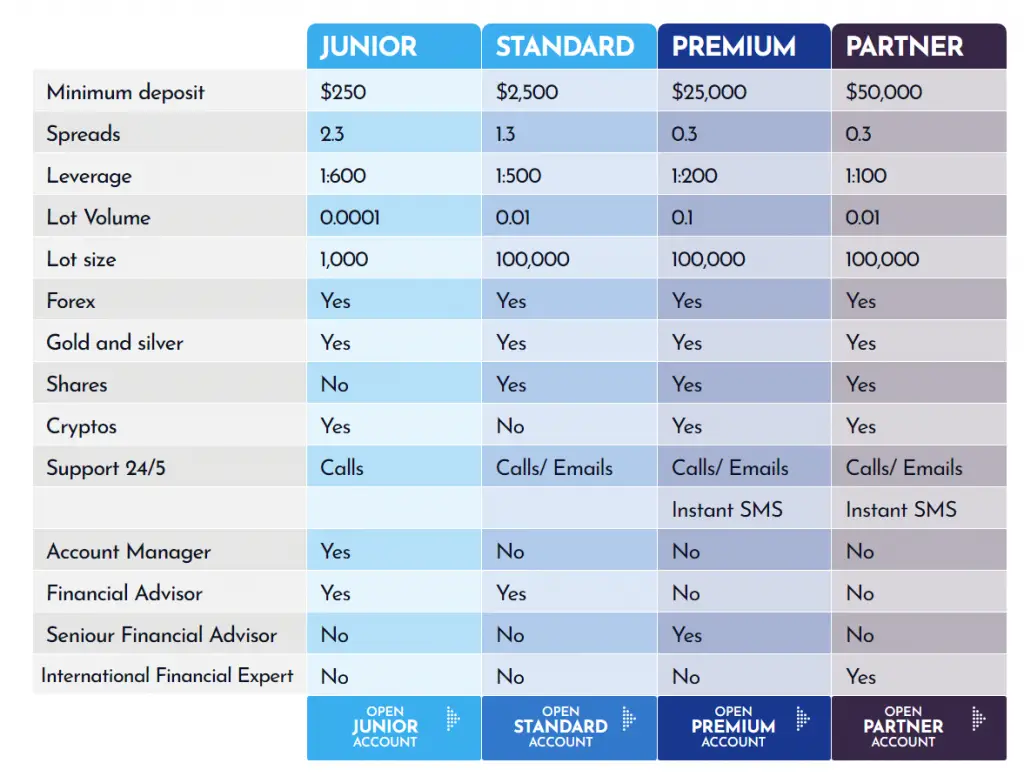 The photo above shows the trading numbers and conditons for the different account types on Northstate.io. What we found on the supposed MT4 desktop software however, was a bit different. Having spreads of 0.3 is already too good to be true for clients, while having up to 2.3 is bad for them and profitable to the broker. This is why legit brokers use between 1 and 2 pips.
Meanwhile, what we found on the MT4 software was 4 pips for EURUSD, which is more than extremely high. Writing one thing and presenting another is always going to be a red flag, no matter how it comes. Avoid this broker!
NorthState Brokers: Licensing and Regulation
The parent comppany of NorthState.io is located in the Commonwealth of Dominica. Dominica is regarded as an offshore broker region because the financial regulatory agency there does not regulate brokers. This means any brokerage company located their operates outside the law, a fact that's made the location a lair for illicit brokers.
That said, the fact that Northstate broker is located in the Commmonwealth of Dominica is enough proof that they are an UNLICENSED broker firm. UNLICENSED broker firms are illegal and are liable to make away with your funds. They shouldn't be allowed to operate.
Conclusion: Is Northstate.io a Legit Broker?
No! Northstate broker is UNLICENSED. They are unregulated by any agency, as expected of offshore brokers. Hence, your funds will not be safe if you trade with them. We cannot recommend this broker to you, and we always advise our readers to trade with transparent brokers, licensed by a reputable agency.
However, if you've got anything else to say about this broker, do mention it in the comments section.
Our Recommendation For You
You can make money online by trading with reputable, reliable and trustworthy brokers. We've been trading with the Fortrade broker below for sometime now and we have no regrets!
[supsystic-price-table id=10]
FORTRADE- One of the Top rated brokers and a good choice for new traders. This broker is Licensed in UK(FCA), Australia(ASIC) and Belarus(NBRB). Guess what? you can trade from any part of the world as it accepts Traders Worldwide. Interested in trading with one of the best Forex brokers? Head Over to Fortrade and start trading!