Do you want to buy LovelyYear Comfy Bra? Should you get this item from lovelyyear.com or is it another ripoff scam? Find out here!
In case you're thinking of ordering the Beauty Back Sports Comfy Bra on LovelyYear, do not do so yet. A lot of things don't add up about it, the company selling this product and the reviews online.
Our Review serves as an eyeopener. We hope it meets you well, and on time.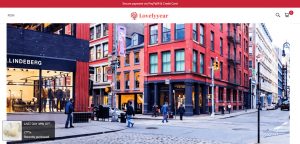 Lovely Year Comfy Bra- Is It Worth It?
One of the reasons why this product is the rave of the internet is because the website (lovelyyear.com) is offering it for discount price. The store is offering a 49% discount and an extra 5% off coupon code.
This offer looks tempting, however what you should be worried about is if this bra is really worth the price?
Should You Be Concerned About lovelyyear.com?
The answer to that question is Yes. Though lovelyyear.com appear to be a legitimate online store, it has already been flagged down as an untrustworthy site.
Below are reasons why you shouldn't think of buying Lovelyyear.com bras –
Bra Fits Poorly
The material used to make the so called comfy bra does not provide support for larger chested women. As a result of this, it causes discomfiture when worn, and might lead to neck or back pain.
Negative History
The company behind lovelyyear.com 'Landbase Trading CO. ltd' already has a bad reputation online. It's in fact a Chinese based company using a virtual England address.
This company has sold many problematic products like 'Bra', Obsidian bracelet, etc., that customers were displeased with. When you search online for 'landbase trading co. ltd Reviews' you'll see a couple of negative reviews from customers.
Fake Customer Reviews
The positive reviews on lovelyyear.com are all fake. Google Search Image showed that the images were gotten from online, and was not submitted by a customer. Moreover, isn't it suspicious that the reviews are all Five star ratings?
Like for real, which e-commerce site has only five star reviews? Nah! an obvious lie that can't be bought!
What are the real Lovelyyear Reviews?
The real lovelyyear reviews can be seen on Trustpilot. According to these reviews, LovelyYear is not a genuine site. Customers alleged that they were deceived by the fake England address, but when they ordered an item they discovered the company is based in China. Meanwhile, the bra doesn't fit well, and all efforts to contact the store for a refund has been unsuccessful.
A customer has this to say about lovelyyear.com –
Would give no stars if I could.

Bras material provides no support for the larger chested woman.

Refused to accept returns for refunds but nothing on website says all sales are final.

After many emails was offered $5 then $7 finally $15 refund not even half what I paid.m a negative -10!

Jocelyn
Is LovelyYear Bra Worth Your Money?
No, it doesn't. The bra is made with a material that doesn't give enough support to large chested women. Meanwhile, the 100% satisfaction guarantee is total BS. Same with the returns and refund policy. The store refuses to accept returns for refunds, rather offering a $15 refund which is not half the amount paid for the item.