Should you buy ID Police As Seen On Tv? or is it another shady theft protection gadget? Read this review to find out!
With online scams springing up every day, we have taken the responsibility of reviewing products, stores, websites e.t.c in order to save you from making wrong decisions.
Our Review of this product serves as an eyeopener. We hope it meets you well, and on time.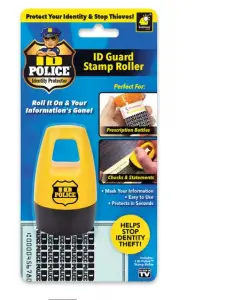 ID Police – Is This ID Guard Stamp Roller Worth It?
One of the reasons why this device is the rave of the internet is because it is a compact device.
You could use a paper shredder to shred old pieces of paper that you don't want other people to read, but paper shredders tend to be bulky and take up lots of space. While ID Police device is lightweight and has the same size as an egg.
The ID Police ink roller is meant to cover up any personal information before the item is thrown out, and it works on on both matte and glossy paper
Sounds Incredible right?
Not to forget it has the following features-
It takes less than a minute to do the job. You just have to roll the stamp over the paper.
It comes in two colors- Yellow and Black
It can be attached to a key chain. ( There is a hole near the top of the device)
For Matte and Glossy Paper
This looks like an easy buy, a quick steal. In fact, no one can resist the temptation of buying this super dope product!
BUT WAIT!
Isn't there something you're missing? Doesn't this look too good? or have your prayers been answered finally?
What You Should Know About ID Police!
Though there are lots of positive reviews about this hearing aid, they are not telling you the exact truth about this product. Below are some of the things you should know before buying ID Police protection roller.
ID Police Complaints
We received a mail from someone who had purchased ID Police As seen on Tv, and his experience with the product was far from satisfactory. This led us to search online for genuine customer reviews.
On Youtube, buyers complained that you can rub the ink off, even after it sat for just a day. Some also stated that even if the ink stays, it seems like you can read between the lines with some effort.
May Stain Hands
There is a likelihood that the ink in the roller may stain your hands. You'll need to be careful if you don't want to get your hands dirty. Also, you should avoid wearing clothes that you want to keep in pristine condition while you use the roller, as they could end up being stained with ink, too.
Does As Seen on Tv Id Police Identity Protector Really Work?
The answer to the question is complicated.
Is it a bad investment compared to shredder? I don't think so! If you're concerned with it not concealing the print you should go over it multiple times.
However, what you should know is this 'you can get similar protection stamp roller for as low as $9 in Amazon.
Best Alternatives For ID Stamp Roller
Thinking of other ways to protect your personal information without using a stamp roller? Read This!
Use a paper shredder. You could very very easily find some cheap shredder, obviously not necessarily a great quality one, but still for between $20-$30.
Plus- Shredders don't require you to buy them again after the ink dries out, although you might have to run a sharpening sheet through them every once in a while.
Use Fire- Another good way to dispose private info is by Burning! (You should need to be extremely careful so as not to burn down the house. But hey! They'd make good wood for your fireplace)
Use Water- You can put the document in water for minutes or longer and then when the paper is soft, ball it up and through it in the trash.
Plus- No one is going to be able to undo the papermache ball to get your information.
For Pill bottles and other prescription stickers- Soak in hot water or warm water for a few minutes then it "peels" off when you rub it. Works well.