Hakura weight loss patch is an abdomen patch that allegedly reduces body fat. Does this slimming patch really work or is it a scam? Are the Hakura reviews online fake or real? This review provides answer to your questions.
With online scams springing up every day, we have taken the responsibility of reviewing products, stores, websites e.t.c in order to save you from making wrong decisions.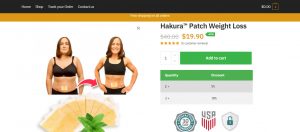 What does Hakura Patch do?
From what we gathered on the website where this product is being marketed, the hakura abdomen patch does the following –
Targets cellulite
 Detoxifies the skin
 Suppresses appetite
Reduces unwanted body fat
Reduces the appearance of stretch marks
Sounds like an ideal product right? Especially as it requires minimal effort, unlike workout programs and diet plans.
Heck! you just need to apply the patch on your abdomen, keep it for 8 -12 hours, repeat for 30 days, then viola! you've your dream body!
Sadly, this is not true.
Should You Be Concerned About Hakura Weight Loss Patch?
The answer to that question is Yes. Though this product is on Amazon, it doesn't make it a legitimate or genuine solution for weight loss.
Below are reasons why you shouldn't think of buying Hakura slimming patch –
Not Clinically Tested
Hakura patch is not clinically tested as claimed. Never mind whatever is written on the website marketing this product, it is total BS. Health professionals do not endorse weight loss patches. In fact, the product itself has not been approved by Food and Drug Administration (FDA).
 There is insufficient evidence of the efficacy of weight loss patches and that includes Hakura patch. The theory behind patches is that the active ingredients are directly absorbed by the body.
Irritates The Skin
Because the FDA doesn't regulate dietary supplements like other drugs, the side effects of weight loss patches aren't fully known. However, one major side effects is skin irritability. 
Fake Weight Loss Results
Don't be deceived by the before and after pictures on the website, they're all fake. As can be seen from the image search result below, the images have been used by similar weight loss products. This proves the reviews aren't genuine.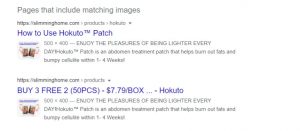 Does Hakura Weight Loss Patch Really Work?
MayoClinic has addressed this issue on this article here. The truth is that there's no reliable evidence that weight loss patches really work.
No scientific studies have been published that show that they work or that they're safe. The Federal Trade Commission has even charged some distributors of weight loss patch with deceptive advertising.
Our past reviews of weight loss patches and detoxifying pads show that they don't help in reducing body fat and toxins.
The bottom line: As with anything that sounds too good to be true, your best bet is to wait for scientific evidence that proves a claim before investing your time and money.
Have you bought and used Hakura patches? Did it work? Please drop your reviews on the comment section.