Grepays.xyz Review: Grepays is not a legit referral website. This review exposes reasons why you wouldn't earn any money after using this site.
With online scams springing up every day, we have taken the responsibility of reviewing products, stores, websites e.t.c in order to save you from making wrong decisions. We have had a lot of readers sending mails asking about the authenticity of Grepays website, this led to our review.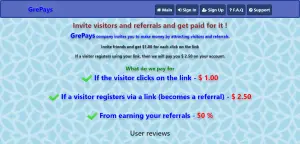 What is Grepays.xyz?
Grepays.xyz is a website that claims you can make $2.50 for new referrals and $1.00 for each visitor. All they have to do is click on the link and you earn some money.
Sounds enticing right?
Don't be in a haste to join this website!
5 Disturbing Things About Grepays.xyz – The First One Will Shock You!
During our in-depth investigation about Grepays.xyz we discovered the red flags listed below.
Anonymous Lots
After a thorough background search on who the owner/owners of Oaxpays is, we came up with absolutely nothing. This alone is an indication that the people behind this online store don't have genuine intentions. If they do, they wouldn't be hiding their details from whois. They simply don't want you to know who they are.
There is something fishy about the amount of secrecy behind this platform. Can you imagine big companies like Apple, Microsoft and Facebook not having a CEO or board of directors? 
Misleading Information
Grepays.xyz has provided its year of active duty as 2007-2021. BUT this is not true! The platform has not been existing for a long time.
In reality the website was only registered in 31 January 2021 as can be seen here.  
No Social Media Presence
Just like other fraudulent work from home schemes, this website do not have any verifiable or active social media page. When we checked Facebook we saw none.
Maybe Facebook isn't their thing. 
Well, Twitter is not their thing either then, because they don't have any Twitter profile.
Fake Reviews
On the official website there are reviews left by users claiming to have bought an Iphone with the money they made. But these reviews are not real. No one has successfully withdraw the money earned on this website.
Don't be Deceived!
What Users Have To Say About Grepays.xyz Site
Real users complained about the inability to withdraw the money earned from referring people. Majority of users said Grepays is a scam and waste of time.
From reviews left by customers, Grepays.xyz works this way-
Once you have made enough money referring people you would be told to pay processing fee in other to withdraw the money you have earned.
You'll be given a bitcoin address to pay into.
This is where the scam comes in.
After payment you wouldn't still receive the money you earned. AND there's absolutely no way to contact the website/
This could be quite frustrating to those affected.
The Truth About Grepays Referral Website
No one has successfully withdrew their earnings from this website even after referring more than 30 friends. This site just collect people's personal information and sell it to malicious platforms who in turn would send these people Spam messages.
Is Grepays.xyz Legit?
From all indications it is not a legit referral website. Just like Use2earn, moneygenie.c, Grepay.xyz is an Untrustworthy platform that is just out to get people's information.