Have you bought Galactic Fidget spinner but don't know how to make it bounce back like a boomerang ball? Read this review to discover the methods to make it work for you.
First of all, there are lots of brands selling this toy. As a result of that, it is been called the following names; Hajimari Boomerang Ball, Boomerang Ball, Hover Ball, FlyNova, Galactic Fidget Spinner, etc.  
Unboxing:
Comes in a small box that contains – a USB charger (for charging), a manual that teaches you how to fly it, and the ball itself. Unlike hover balls of old, this one is encased in a plastic covering. What this means is that it is safe to use indoor, and would not scratch your television if it happens to crash into it.
Aside that, on the top of the ball is the off and on switch. When you switch it on, the LED light inside the ball displays. However, you'd need to charge the ball before use.
Testing:
After charging for few hours, the boomerang is ready for its first toss. The first couple of tries were frustrating as it kept crashing into trees and falling. However, Jeff4Reviews was able to devise a means with which to toss the ball successfully.
How to fly the boomerang ball successfully
First Method:
Hold the Ball 10 -30 degree angle
Get one finger on the left hand side of the ball, and one finger on the right hand side of the ball.
Push the ball forward ( It's going to bounce back to you in an arc)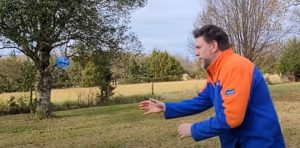 Second Method:
Turn the ball on
Tilt it back towards yourself with like a 10 – 30 degree angle
Throw it forward, but as you do so push forward with your thumb and sort of throw t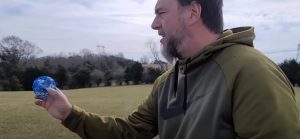 Galactic Fidget Spinner Boomerang Ball: What I Don't Like
Its USB charger is quite short
It doesn't come with a remote control with which to control the ball when it's spinning
It is a ball that is supposed to come back to you when you toss it, but it takes a lot of practicing to learn how to make it do so.
The boomerang ball takes 30 minutes to recharge, but it run time is just 10 minutes.
Conclusion:
Boomerang balls are ideal toys for kids. The buzzing, spinning and LED light are fascinating to kids. Especially when tossed in the night. It doesn't contain anything sharp that would harm kids or shatter walls. In fact, it's a modern yo yo and a great Christmas gift for kids.
Meanwhile, have you used the Boomerang Ball? What were your experiences so far? Please share on the comment section or leave a message at our Contact page.