Should you get the Fur Daddy pet hair remover tool or is it a junk sold for $19? Would this pet hair remover work better than a Vacuum? Are the claims about this As Seen on TV product real or is it just another scam? Read our honest review.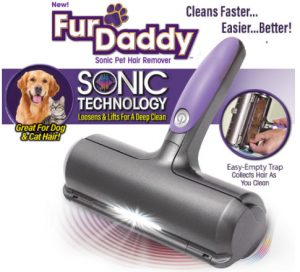 The Sonic Fur Remover also called Fur Daddy is a pet hair remover that allegedly uses micro-sonic vibration technology and microfiber bristles to pick up embedded pet hair fast. According to the information on the website, this product works on a variety of surfaces, including car seats, couches, beds, rugs, and clothing.
Sounds quite interesting right? But wait… Does this pet hair remover really work or is it just a rip off?
Our Review of this product serves as an eyeopener. We hope it meets you well, and on time.
How To Use Fur Daddy
Rock and roll the head of the Fur Daddy over the problem surface.
The LED light reveals nearly-missed hairs.
The Microfiber bristles and micro-sonic action work together to remove pet hair.
When done, press the side button while holding the remover over a trashcan.
Pet hair will fall from the chamber into the trashcan.
Sounds like an ideal product right?
However, there seem to be some inconsistencies about this product. Below, are issues we have with Fur Daddy.
Fur Daddy : What We Don't Like
The fur daddy from Sonic looks like a great product especially if you constantly battle pet hairs. However, during our unboxing and testing we noticed the following flaws –
Not Very Functional
At first we couldn't figure out how to use this product, it was pretty much clumsy for us. Like It felt awkward using. However, when once we learnt how to use it, it was like a glorified lint brush.
Yes, it did get the hair on the carpet, but we couldn't figure out why it was motorized when the hair was just picked up by the lint attractor and then moved to the storage portion of the product. It didn't seem that it being motorize helped because the same thing happened when we didn't run it.
Works Great For Just Cat Hair
We did a poll, and majority of users said the Fur Daddy worked pretty well for cat hairs. Dog owners say otherwise. According to their reviews, It did not pick up the dog hair very well.
Not Worth The Price
For $19, we didn't expect a cheaply made tool. The battery compartment was hard to take out and put back in, after installing the batteries. The piece on the handle that should slide out to hang it, didn't want to come out and broke off when we used tweezers to pull it out.
Two AAA batteries (not included) is only needed to operate the light, which is very dim and pretty much pointless. 
What we think: Does Fur Daddy Really Work?
Customer ratings and reviews are below average, however the concept behind this product is excellent. We just wished it worked better. The product needs some improvements. It felt like it was gonna break every time we tried using it.
For $19.95 we expected more. We think ChomChom Roller Pet Hair Remover is a better option. It has more than 81,000 customer ratings on Amazon, and has been declared the best thing after Pizza 😂 . You should consider getting the ChomChom pet hair remover. See the official ChomChom Roller Amazon store below.