Do you want to buy Fujimint weight loss patch? Do you fear it's another fad weight loss product? Is Fuji Mint a scam or does it really work? Read this review to find out everything you need to know about Fujimint.
Our Review serves as an eyeopener. We hope it meets you well, and on time.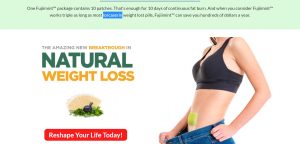 Fujimint: What is it?
It is a tummy weight loss patch that helps burn out fats and bumpy cellulite. It works this way – block the absorption of grease, sugar, and starch and helps to balance one's excess appetite. According to the website, Fujimint works triple as long as most lorcaserin weight lost pills because it bypasses the digestive system.
Sounds interesting right? Could it be a better alternative to dieting and cardio exercises? Lets find out!
How To Use
Wash and dry the part of the abdomen you'll put the patch on
Gently remove the film from the sticky part of the patch.
Apply right over lower abdomen or any other body part, and gently press it to the skin until attached.
 Keep for 3 to 4 hours, and then gently remove.
What we Like about Fuji Mint
It contains mint
It's quite affordable
What we Don't Like
Fujimint patches does not burn out fats and bumpy cellulites. Even when we used it for four weeks we saw no change.
The product contains ingredients that react to moisture and body heat and it changes the color from whatever it is to black once in touch with heat and humidity. This gives the false impression that the patch is working.
Fake before and after photo – when we checked the images used on the website, we discovered it has been used by countless weight loss products.
One major side effects is skin irritability. We wore each patch for 24 hours, and had redness around the spot we applied it
Does Fujimint Patch Really Work?
MayoClinic has addressed this issue on this article here. The truth is that there's no reliable evidence that Fujimint abdomen patch work.
No scientific studies have been published that show that weight loss patches work or that they're safe. The Federal Trade Commission has even charged some distributors of weight loss patch with deceptive advertising.
The bottom line: As with anything that sounds too good to be true, your best bet is to wait for scientific evidence that proves a claim before investing your time and money.
Conclusion
Just like Kimutox, Fujimint appears to be a fad weight loss patch. It's not possible that you'd burn out fats and cellulites just by applying FujiMint patch on your tummy. As far as we are concerned, the only effective way to burn out fats and maintain a healthy weight is by dieting and working out.
Have you bought Miryoku? What are your experiences so far? Please share on the comment section!
Prefer to do so anonymously? All you need to do is go here >>>> Fill The Form.