Are you charmed by the items on fuzzfro.com? Does the deals look suspicious? Would you receive the exact items you order from this store? This review provides the answer to your questions.
Online shopping has made it easier for a lot of us who don't fancy trudging the streets, especially during this post Coronavirus period. However, with the rise in online shopping, online scams have risen.
This is why extra measures have been taken to provide the accurate details, and the pros & cons of this online clothing store called Fuzzfro.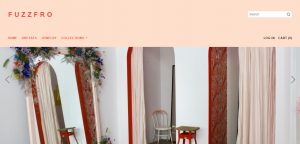 What is fuzzfro.com Website?
It is an online store that sells classic ladies wear like petal blouse, satin jumpsuit, Claudette dress, etc. However, one suspicious thing about this store is that though the website shows it deals in women's clothing, the online store is running ads on the internet for unrelated items like profane tank, echo chain saw, tools, etc.
All for prices that look too good to be true. At this point, you can rightly conclude that it is indeed a shady online store.
Want to know if Fuzzpro.com is worth the risk? don't skip this review.
First of all, lets look at the website specifications.
Website Description
Name: Fuzzfro
Type: Online Store
Link: https://fuzzfro.com /
Email: [email protected]
Date of Registration: September 2020
The website is ten months old
Company and Owner Information: N/A
Company Location: 535 MANDALAY ROAD, POWAY, CALIFORNIA, 92064 UNITED STATES
Contact Number:  (724) 516-1450
OBSERVATION: fuzzfro.com doesn't look too good. Firstly, the phone number provided does not work. When I tried contacting the store with the given phone number, I was unable to get a connection. Secondly, the address is a fake one, it doesn't exist. If indeed the store is located at California why does the phone number have a Philadelphia area code? At this point, I'm already having a bad feeling about this online store.
Does it get better or worst? Keep reading!
Pros of fuzzfro.com
Accepts PayPal
Has a user friendly interface. No annoying pop-up notifications
Website is secured with SSL encryption
Drawbacks:
Website Lacks seal trusts from authorized organizations like.
Uses a fake address and phone number
Spelling errors on the Privacy Policy page
Provides no social media links
Location
Fuzzfro.com has provided its physical address as California but in the real sense the store is not located there. The website was registered in China. The question you should ask is this "Why'd a website that is based in California be registered in China?" doesn't it look fishy to you? The domain registration details is concrete proof that the store is not located in California as claimed.
Suspicious Nature
On the internet, Fuzzfro is offering items like Dewalt tools, Camp tent, Profane tank, etc. for low prices, but on the website itself it says it deals in women's clothing. What is the connection between women's clothing and household appliances?
Also, the Website claims the company was created six years ago in Los Angeles, but the website is only nine months old and registered in China. What a big fat lie!
Customer Complaints
Though Fuzzfro has no provision for customer reviews on its website, customers have left reviews online stating that the online store 'fuzzfro.com' is a full fledged scam that fails to send confirmation email or tracking details after purchases are made on the site.
Fake UPS Delivery
Though Fuzzfro.com uses PayPal, it doesn't mean its a safe site or you can get your refund easily. The scammers behind Fuzzfro have found a way to trick PayPal. They do this by providing fake UPS delivery details to PayPal. Because of this, when you file a claim for refund on PayPal, It gets denied.
Is fuzzfro.com Legit?
From the points noted above, I wouldn't call Fuzzfro a legit online store. It indulges in false advertising and uses discount to deceive buyers. In reality, the products are never delivered.
Would I buy items from this store? I honestly wouldn't. Apart from the possibility of not receiving anything, PayPal is no longer a secured platform. Con artists are exploiting a PayPal policy and deceiving online shoppers into paying for goods that don't exist. This new scam involves fake tracking codes and delivery mix ups. 
Conclusion:
From all indications, fuzzfro.com is not a legitimate online store.
At the end of the day, just like Jeloow, FiveCotton, and a host of other sites located in China, Customers might receive knock-off imitation of what they had ordered or nothing at all.
You should consider buying from these Amazon sellers below. The delivery is swift, and response is timely.
Have you been scammed?- Do This
Shopping from this store exposes customers to the risk of hacked credit card and overcharged fees. Also, customers would either receive an inferior item, a different cheaper item, or nothing at all.
Therefore, it is advised to file complaints to your bank and request for a new credit (debit) card. On the other hand, if you used Paypal as a method of payment, you should send a link of this review to PayPal, highlighting the Payment Scam.
Yes, it is true that online shopping has made life easier, however when ordering things online check out the following-
How old is the website? Does it provide return address? Are there customer reviews online? Do the social media icons work?
Always remember you can get the items from trusted sellers on Amazon, like the ones provided above. One of the advantages of shopping from amazon is the return policy. If you are not happy with your order, you can always return your items and get your money back.