Is finfuture.co a legit broker? Will it be a wise move to trade with this broker? Before you take any step, you're advised to read this review on FinFuture Broker.
Going into forex trading can turn out to be one of the best decisions you ever made, despite it's risks. But for this, you need the right broker. So is finfuture.co the right risk to take? This review will tell you all you need to know about Finfuture broker.
What There is to Know About Finfuture Brokers
Finfuture is a brokerage company that portrays itself as a leading member of the forex trading industry. They deal in forex, indices, commodities and stock. According to their website, they are located in Kingstown, St. Vincent and the Grenadines (SVG).
The website with which they interact with their customers and potential customers is finfuture.co. And while they seem like any other forex broker, there's a few things we would like to point out to you about Finfuture brokers.
Finfuture Brokers: Red Flags Found!
It would do you much good to consider the following red flags before you consider investing your cash with finfuture.co
Contact Information Inconsistencies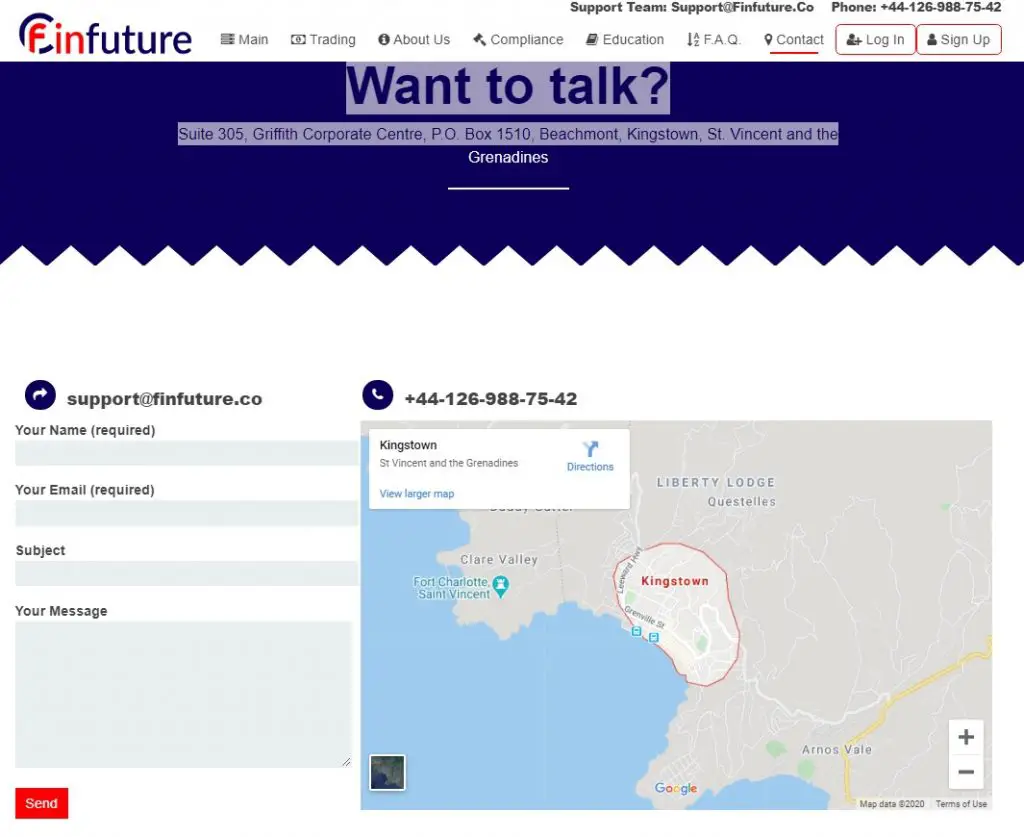 If you take a look at the contact info page of Finfuture brokers shown above, the address provided by them says; Suite 305, Griffith Corporate Centre, P.O. Box 1510, Beachmont, Kingstown, St. Vincent and the Grenadines. First of all, SVG is an offshore forex region. This means that you're more likely to be scammed trading with brokers from there. But this isn't even the point.
If you observe closely, you see that their contact phone number starts with +44. If you were familiar with these country codes, you would know that +44 is a UK country code. UK is a European country, SVG is North American, so it's not even a close call. RED FLAG!!!
Transparency
Transparency is one of the top attributes of any legit broker. They do not hesitate to flaunt their parent company, procedures, or their trading platform. Going through finduture.co, you can barely find any of the above information.
Since we cannot confidently identify who they are, how they operate, or the name of their parent company, we cannot trust them.
Licensing
Our final red flag from Finfuture brokers is probably the most important; license and regulations. Nowhere on the website, including in their terms and conditions is there any mention of a regulatory body controlling them.
In the absence of any regulatory body, this trading broker is simply illegal and should not exist.
Is FinFuture Broker Safe?
Considering all the evidence we've found, and the ones we were unable to find, our answer is no. We cannot say it is safe to trade with finfuture brokers. Putting aside everything else, the fact that they are unlicensed is every kind of shady. Find yourself a licensed broker to trade with.
Our Recommendation For You
You can make money online by trading with reputable, reliable and trustworthy brokers. We've been trading with the Fortrade broker below for sometime now and we have no regrets!
FORTRADE- One of the Top rated brokers and a good choice for new traders. This broker is Licensed in UK(FCA), Australia(ASIC) and Belarus(NBRB). Guess what? you can trade from any part of the world as it accepts Traders Worldwide. Interested in trading with one of the best Forex brokers? Head Over to Fortrade and start trading!