Have you received an email directing you to fbinternettrackingsettlement.com? Do you want to find out if the email is a legit fbinternettrackingsettlement mail? read this review to find out!
What is The Fbinternettrackingsettlement Email About
It is an email informing US citizens of the latest information concerning the Facebook Internet Tracking Litigation class action suit. The email is real, and the official website for submitting a claim is fbinternettrackingsettlement.com.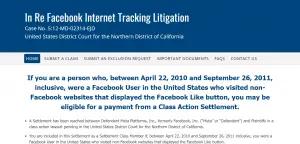 What is The Facebook Internet Tracking Litigation all About?
The lawsuit is also known as In Re Facebook Internet Tracking Litigation case, Case No. 5:12-MD-02314-EJD (N.D. California). It alleges that the Defendant improperly obtained and collected data from Facebook Users in the United States who visited non-Facebook websites that displayed the Facebook Like button between April 22, 2010 and September 26, 2011, inclusive.
How To Know If You're Among The Settlement Class
You're inclusive in the settlement payout if you were a Facebook User in the United States from April 22, 2010 through September 26, 2011, and if you visited non-Facebook websites that displayed the Facebook Like button.
How Much Will You Get From The Settlement?
 It's impossible to tell how much you can get at this stage in the lawsuit, as the final payout will depend on the number of claims submitted and additional fees.
However, this is a $90 million dollar settlement. There are around 220 million Facebook users in the US. Attorneys fees are what, 40%? That leaves $54 million for payout to a pool of 220 million potential claimants. That's less than a dollar per person. Of course not everyone will file a claim but even if only 10% did that's less than $3 per person.
How to Submit a Claim
If you're eligible for the payout, you should submit your Claim Form online here or download the claim form and mail it to the Settlement Administrator.
For more information, contact the Settlement Administrator by email at [email protected].com or by phone at 844-665-0905.
Meanwhile see other class action settlement here You can also check if you're eligible for Bcbs settlement here