Is EverycMarket a legit broker? Is it wise to trust and trade with this broker? For your own sake, we would advise you read this review on everycmarket.com before doing any business with them.
Venturing into Forex could be the best thing that's happened to you, it could also be your undoing. This mostly depends on whether or not your have the right footing in the market. To have the right footing, you will need to trade with the right broker. Our job here is to review these websites that claim to be one thing or another, then help you tell legit from deceit. The following review will tell you all you need to know about EveryMarket broker.
About EverycMarket Broker
EverycMarket is a brokerge company that apparently, is owned and operated by CCAI Limited. This company is located at 25335 BC 2019 – Suite 305, Griffith Corporate Centre, Kingstown, St. Vincent & the Grenadines.
Everycmarket.com offers clients a leverage of up to 1:500. They claim to have negative balance protection and a free advanced trading platforms for all your devices. At first glance, this appears to be as good a website as any, and appeared to be legit. However, here are the things we found on the website that we feel might be suggesting otherwise.
Why You Should Probably Avoid everycmarket.com
While EverycMarket brokers might look as harmless as the next broker, consider these our findings before throwing in with them.
Address/Contact Information
Take a very good look at the photo below;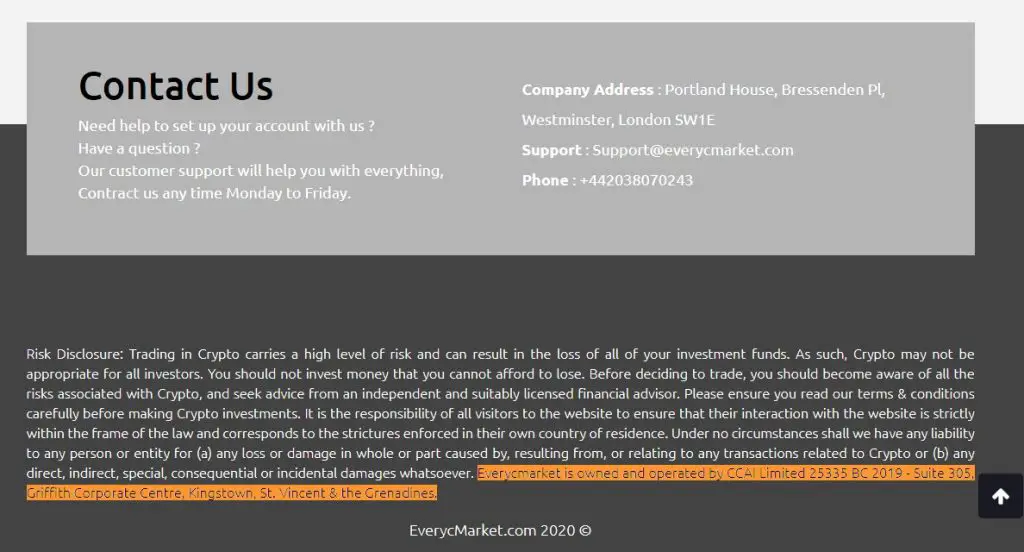 Remember the address we gave earlier concerning the parent company of this broker? That is the highlighted text somewhere at the bottom of the page. On the contact info page, however, we are provided with a UK address. Not just any address, one so prestigious it is two streets away from the Buckingham Palace. There's also a UK-coded contact phone number which makes it hard to disagree with the address.
It doesn't matter how new or old you are in the business, this should scream RED FLAG to you.
Deposit and Withdrawal
While going through everycmarket.com, we found two more incinsustencies in the FAQ section and the Terms and Conditions page. This time they both had to do with deposit and withdrawal policies.
First of all, on the FAQ page, it says the minimum deposit amount required to open an account with EverycMarket is $250. However, in the Terms and Conditions section, the minimum deposit is $500. Wow! Now even if one of these were to be a mistake, it would still be far more expensive than that of legit brokers who usually charge $100 or less.
On the withdrawal part, it is written in the FAQ section that withdrawals take a day to process. But in the Terms and Conditions section, everycmarket.com requests about 7 days for withdrawal processing. This is 7 times the amount of time required by legit brokers (1 day).
These are more reasons to raise eyebrows. But wait, there's more…
Licensing and Regulation
Upon getting to this point, we got confused. Do we use the London address as the reference to check their regulation with the FCA? Or do we check using their SVG address. Then we came to two realisations;
The first is that EverycMarket brokers offer a 1:500 leverage. Meanwhile, the FCA for a long time, has only permitted licensed broker to only offer as high as 1:30 leverage. That cancels the possibility of FCA regulation. Also, the Financial Service regulatory body of SVG revealed that it didn't regulate any broker in it's region, making it an "offshore region."
Offshore regions are home to shady brokers and cannot be trusted. Nevertheless, both areas were checked. EverycMarket did not exist in either of the registries. This means it is illegal and shouldn't exist.
WorldStocks Review Conclusion: Is worldstocks.com Legit?
No. Everycmarket.com does not have verified ties to any regulatory body, meaning you trade with them at your own risk. We cannot recommend an unlicensed broker with this many inconsistencies to our readers. We urge you, however, to find and trade with licensed brokers who have proven results.
Our Recommendation For You
You can make money online by trading with reputable, reliable and trustworthy brokers. We've been trading with the Fortrade broker below for sometime now and we have no regrets!
FORTRADE- One of the Top rated brokers and a good choice for new traders. This broker is Licensed in UK(FCA), Australia(ASIC) and Belarus(NBRB). Guess what? you can trade from any part of the world as it accepts Traders Worldwide. Interested in trading with one of the best Forex brokers? Head Over to Fortrade and start trading!