Does epify hair removal cream really work? would it stop hair from growing? is it scam or legit product? see what our product analyst has to say about Epify.
Our Review serves as an eyeopener. We hope it meets you well, and on time.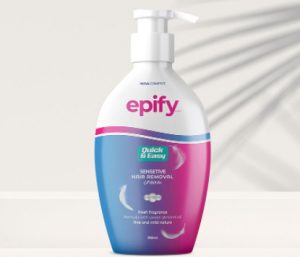 Epify: What is it?
It is a hair removal cream that was launched in 2022. The product claims to vanish unwanted body hair. You only need to apply it to clean and dry skin, rinse with warm water after 30 seconds, and use regularly.
Sounds interesting right? Could it be a better alternative to traditional razors? Lets find out!
What we Like about Epify
 It's available on Amazon
Removes hair from root without causing irritation
Works on tattooed skin and coarse hair.
What we Don't Like
Our package took weeks to arrive.
It is not good for bikini areas.
It took about 4 days for the hair to grow back unlike the claim that it takes 30 days.
Does Epify Really Work for Hair Removal?
According to majority of users, Epify is a great alternative to razor shaving. However, some of the claims made by the company are false. See some of the worrisome issues experienced by users –
I bought this product off of their website. It took awhile to be shipped and I had to send them an update email but it, eventually, got to me. It DOES remove hair. However, it took about 4 days before hair growth came in. Not 30, as they claim. It's painless, yet effective. I would still continue to purchase since anything is better than shaving and getting itchy stubble & razor-burn.

Alexis
Epify Hair Removal I used it once it does remove the hair fast. But doesn't stop it from growing. My hair was growing back like when I shave my legs.

Jess
I bought this hoping it would work. I tried it on my face. It doesn't smell when you first put it on but it does when you take it off. I used it two times. Did not remove any hair and the second time I used it, it burned my skin to the point I had red marks that scabbed up the next day. Would not recommend.

Kindle customer
Conclusion
Epify appears to be a better alternative to traditional shaving. However, just like Silky Skin, users might have varying results.
Have you bought Epify? What are your experiences so far? Please share on the comment section!
Prefer to do so anonymously? All you need to do is go here >>>> Fill The Form