Are you charmed by the massage chair on Dawnspaces website? is it worth the price? Would you receive the exact furniture or a cheap imitation? find out from this review.
With online scams springing up every day, we have taken the responsibility of reviewing products, stores, websites etc for our reader's financial safety.
This review exposes everything you need to know about the store.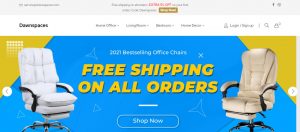 What is dawnspaces?
It is an online store that sells different kinds of chic furniture like massage chair, office swivel chair, office desks, couch covers, etc. for affordable prices.
The website offers free shipping on all orders, and an extra 5% off on first order.
But is it worth it? First of all, lets look at the website specifications.
Website Description
Name: Dawnspaces
Type: Online Store
Link: https://dawnspaces.com/
Email: [email protected]
Date of Registration: July 2020 ( One year old )
Company and Owner Information: N/A
Company Location: Room 7-3-15,Tongji Road 227, Ningbo, Zhejiang, China 315000
Contact Number:  +8613819447697
OBSERVATION: dawnspaces.com looks quite good. The online store has been operating for a year, and has an available means of contact. However, the store's location (China) is major turn off.
Does it get better or worst? Keep reading!
Pros of dawnspaces.com
Products are mainly for women.
Has a user friendly interface. No annoying pop-up notifications
Website is secured with SSL encryption
Accepts various payment methods
Drawbacks:
Provides no company information
Has lots of negative reviews on their official Facebook page
Customer Complaints
Though Dawnspaces has no provision for customer reviews on its website, customers have left reviews online stating that the company is a scam. According to these reviews, the furniture received are a far outcry from the images seen on the website. The following faults were noted –
Cheap material
Poorly constructed.
Assembly manual in Chinese
Weak wheels (metal joints) that easily breaks
See some of the customer reviews here
Terrible Return Policy
This online store has a terrible return policy. It is totally impossible to return a damaged item. Customers are told to pay $100 for return fee, or receive a $15 compensation. That sucks!
Is dawnspaces.com Legit?
From the points noted above, I wouldn't call Dawnspaces a legit furniture store. It indulges in bait and switch scam, has a terrible return policy, and lacks good customer support.
Would I buy massage chair from this store? I honestly wouldn't. Apart from the possibility of receiving junks, I don't have the patience to wait for the delivery. The estimated delivery time is between 2 – 4 weeks due to the fact that the products are coming from China!
Conclusion:
dawnspaces.com is not a reliable online store to shop from. It has a poor trust score, and as such not recommended. Customers who shop from this store would either receive a different cheap item or nothing.
You should consider buying from these Amazon sellers below. The delivery is swift, and response is timely.
Have you been scammed?- Do This
Shopping from this store exposes customers to the risk of hacked credit card and overcharged fees. Also, customers would either receive an inferior item, a different cheaper item, or nothing at all.
Therefore, it is advised to file complaints to your bank and request for a new credit (debit) card. On the other hand, if you used Paypal as a method of payment, you should document (screenshot) the transactions for future purposes.
Yes, it is true that online shopping has made life easier, however when ordering things online check out the following-
How old is the website? Does it provide return address? Are there customer reviews online? Do the social media icons work?
Always remember you can get the items from trusted sellers on Amazon, like the ones provided above. One of the advantages of shopping from amazon is the return policy. If you are not happy with your order, you can always return your items and get your money back.