If you you received an Instagram message from Cocoburry claiming you can be their brand ambassador or Influencer, read this review to know what you should do.
If you've been contacted by Cocoburry for an Instagram collab you might be considering giving the online store a try. What harm could there be? Who doesn't like free products? Well, sorry to kill your joy, Influencer Scam is one of the fast rising internet scams.
Could cocoburry.com be one of such fraudulent stores? Lets find out!
What is Cocoburry?
Cocoburry located at Cocoburry.com is the brand name of an online fashion store that is quite popular on Instagram. It sells hoodies, crewnecks, joggers, tees. Sadly, aside the glitz and glamour, something fishy is happening.
This fashion store contacts lots of small Instagram influencers, offering to make them their brand ambassador. These ambassadors are given a 50% discount code for whatever they buy from the website. Sadly, there's more to what meets the eyes.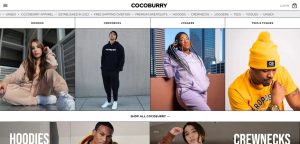 Things You Should Know Before Becoming Cocoburry Influencer on Instagram
No Benefits
The thought of being an ambassador for a brand might look enticing, but in this case there's a caveat. First of all, the $75 offer for a pic and tag is not totally genuine. You'll have to pay for whatever you buy. Meanwhile, the 50% discount code isn't beneficial because even with that discount, the clothes are the same price or cheaper elsewhere. So you see, the ambassador offer is just an emotional trick.
Poor Quality
One of the complaints by customers is poor quality of items received. According to customers, the hoodies are not worth the price they're being sold. In fact, you can get it for a far lesser price elsewhere. See what an influencer has to say –
They charge $80 for a hoodie, give the influencer a 50% off code. The influencer is required to buy their own hoodie. At $80 the Made in Bangladesh hoodie is a rip-off. When checking out the customer is offered a 30% discount because the hoodies are over-priced. At $40 the Champion Reverse Weave is a much better quality hoodie. The Reverse Weave is thick, warm and becomes a part of your over-time.

The Cocoburry Hoodie will not last a year! Think of Cocoburry as the Yugo and other hoodie brands as Mercedes, Beemer, and Rolls.
No Customer Support
 Though Cocoburry have a social media presence, they don't have a phone number to call. Meanwhile, did you notice how there is no mention of where they are located or even a phone number anywhere on the website. As a shopping website the whole website seems legit, except for the lack of a factory/store address and the fact that they just included PO boxes instead(for both the USA ad canada addresses)
What Customers Have To Say About Cocoburry Influencer Offer
Having listed all the cons of this site , it is important to read from those who had purchased from this store. We were not surprised when we discovered that their experiences were below satisfactory. Below is how Cocoburry site works.
I literally just got contacted by them too, & was trying to figure the same thing out because their stuff is way too over priced to take the chance. & they say just to post a pic is $75 plus a tag but I don't see them really coming out of pocket for that many people? I'm confused by it
It seems to be a legit site for purchasing clothing but to become an influencer, it looks like a scam. They didn't give any type of interview or ask any questions to approve me to become an influencer. Red flag #1. The amount they pay out is extremely high compared to what other influencers get paid from companies. Red flag #2. Finally u have to pay (buy off their site) to become an influencer. It doesn't cost to become an influencer. Red flag #3. It's a hard pass for me.
This could be quite frustrating to those affected.
10 Easy Ways To Spot a Scam Brand Ambassador Collaboration
Requests for you to purchase their product first for reimbursement later.
Requires you to purchase at a discount.
You have to cover the shipping fees and expenses.
Asking you to create content for their use on their Instagram/website, using their product but they don't pay you or give you the product. In return, they will help promote your social media accounts (i.e. will credit you)
Brands requesting a collaboration by commenting in your comments on Instagram, or your blog. They're using a shotgun approach hoping you'll bite.
Using language that isn't professional (i.e., sweetie, darling, honey… you get the picture).
Spelling and grammar errors! This is one of the biggest indicators this is not a professional request.
A brand collaboration scam will always have caveats in the email or message that makes extra work for you, without really compensating you for it.
Offering you a special affiliate commission with a "discount" for your followers (there are affiliate programs galore that you can sign-up to).
It's from a sketchy company that when you Google it, seems to be doing some questionable work or has poor reviews.
Conclusion
Cocoburry influencer program is not a scam perse, however the brand is not totally honest with its ambassador collaboration offer. The company fails to fulfil their end of the contract – they don't pay influencers the $75 they promise for a pic and tag.
Have you been scammed By This Store?- Get Your Money Back Now!
Shopping from this store might you to the risk of hacked credit card and overcharged fees. Also, you could receive an inferior item, a different cheaper item, or nothing at all.
Therefore it is advised to file complaints to your bank and request for a new credit (debit) card if you experienced such. On the other hand, if you used Paypal as a method of payment, you should document (screenshot) the transactions for future purposes.
It is true that online shopping has made life easier, however when ordering things online check out the following-
How old is the website? Does it provide return address? Are there customer reviews online? Do the social media icons work?
See similar stores we've reviewed here- Blaroken, Bawsk, ShikoBike, Campeqpcc, TeesLion, TeesVibe, e.t.c