First of all, cloutzap.com does not pay. Forget the positive reviews online, it hasn't paid anyone a dime for completing tasks. Read this review to find out why CloutZap is not worth your time and data.
About CloutZap.com
CloutZap located at cloutzap.com is a website  where you can earn money by playing games, completing tasks, referring friends and family members. An easy way to make money from home right? Sadly, there are lots of shady things about the earning platform.
Some of which are –
Every task you try to complete want your social security number. This isn't good! Giving out your social security number places you at the risk of identity theft. In fact, Identity theft is one of the fastest growing crimes in America. A dishonest person who has your Social Security number can use it to get other personal information about you.
Requests for your bank details but testimonial proofs online show people get paid with check. What then is the essence of asking for your bank details? It is either the testimonials online are fake or CloutZap is not a genuine platform.
Doesn't pay immediately. Withdrawing your money isn't as easy as you think. Instead of been paid immediately you're done with your task you're told to wait till a month's time. All in the name of 'Processing' which they claim is done to verify if you cheated.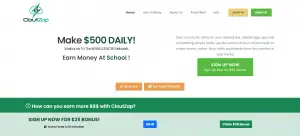 4 Reasons Why Cloutzap.com Is Not Worth Your Time
In as much as the well designed website would make you think they are real, the truth however remains that some fraudulent platforms pay huge money to have their platform look standard and convincing. A standard looking website does not make a website legit.
During our in-depth investigation, we discovered the red flags listed below.
Misleading Information
On the About Us page of CloutZap, they claim the network was started in 2017, but this is false information. According to Who.is, their website's domain name was registered on October 2021, which is just two months ago. 
If they have really been operating since 2017 why are there no tangible information online about them prior to 2021?
Anonymous Lots
After a thorough background search on who the owner/owners of CloutZap is, we came up with absolutely nothing. This alone is an indication that the people behind this website don't have genuine intentions. If they do, they wouldn't be hiding their details. They simply don't want you to know who they are.
There is something fishy amount the amount of secrecy behind this platform. Can you imagine big companies like Apple, Microsoft and Facebook not having a CEO or board of directors? 
Fake Testimonials
Though the testimonials and videos about CloutZap might seem so real to you. The truth is that those payments are unverifiable, and simply done by the guys behind CloutZap. As for the claim that they've paid up to $22M to users, that is entirely false. Why are there not enough proof online?
Don't be Deceived!
Suspicious Nature
Cloutzap has the same structure of other earning network that flopped. The 30 days wait time is similar to that of Itsdollar, Use2earn and moneygenie.co . Users don't get paid in the long run.
Afterword – Is CloutZap Legit or is it a Scam?
Yes, it is a scam. The survey site does not pay users for completing tasks or inviting people to the site. It is not a real site where you can earn money from completing minor tasks. Forget the lies they are feeding the public. CloutZap is simply a site that sells your personal information like your email, number and credit card info to the dark web. No matter how many referrals you bring to the platform, and how many tasks you complete, you will never get paid, not even a single cent.